Iron Man 3 Teaser Trailer Review
By Zak Edwards
October 23, 2012 - 13:24
Finally, after teasers for the teaser trailer of the next Iron Man movie, the actual teaser trailer has arrived, not teasing so much as taunting us with what is coming next for Tony Stark and those around him. But what do we make of it, this two minutes of footage put together of the next movie from the Marvel Cinematic Universe (Phase 2 as some are calling it)?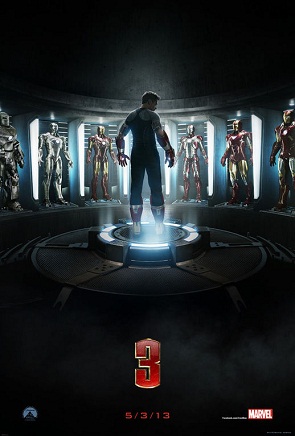 In a lot of ways, this movie has much to prove. This movie has to prove the point of bringing these movies together now that separate again. Iron Man 3 is the first of the second phase, so recognizing the fact these characters have interacted quite substantially now only to separate again will be something to balance in this film. Iron Man 2 was divisive amongst fans: some saw it has too similar to the first, some loved the acting and sheer entertainment value. Personally, the thing I love about these films is the dialogue, how it's used, what it means between characters, and most of all how funny it is. The second movie had more witty banter and even more clever usage (more overlap with Robert Downey Jr. and Gwyneth Paltrow's lines and watcing Coulson interact with Tony was a highlight), so I liked it maybe even more. It was, after all, enormously entertaining.
But that was then or, as Tony says, "They experience things, and then they're over." The second movie's finished, The Avengers happened, and now we look to the future. But the movie is doing exactly the opposite as the weight of being Iron Man and living in a world that necessitates the Avengers is taking its toll. Tony's suffering a bit of trauma, it seems, from the events of The Avengers, which is a nice touch to keep things cohesive and to explore him a little more. The major point to this movie, however, is that Tony can't be isolated anymore, he has somethings to lose that can't be bought or sold or manufactured, the relationships these movies have created are the problem here now, so seeing the protagonist with these consequences are interesting as well. I have to say though, Tony seems really mopey, the banter isn't here, the wit, the covering up through grandiose demonstrations are gone as well. No classic rock soundtrack and no real look at the Tony we know. Maybe that's the point, that things are now more serious, but I hope this film doesn't think itself so important as to disregard what makes it good: how fun it is. The trailer isn't fun and maybe that will be good thing if the movie does get more serious, more meditative. But they have to do that with the Mandarin.
"Some people think me a terrorist." I have to say, the Mandarin is going to be a pretty hard sell for me, which is hopefully why the Extermis storyline is played in conjunction, balancing a fairly problematic character with something a little less politicized. Besides, Tony is usually his own worst enemy and unless Pepper has turned her boyfriend into something unrecognizable, I'm sure this will play a major factor.
Overall, I think the trailer is good. It shows cohesion and introduces some great effects and plenty of mystery (just what is he doing towing an Iron Man suit anyways?) while upping the stakes through, well, Tony's stakes in the world that he is increasingly connected to. I just wish I was entertained, which feels a bit hypocritical for me, but the banter is gone and it makes me worry.
Last Updated: February 5, 2023 - 09:06