Comics / Comic Reviews / More Comics
Invincible #50
By Geoff Hoppe
June 16, 2008 - 17:26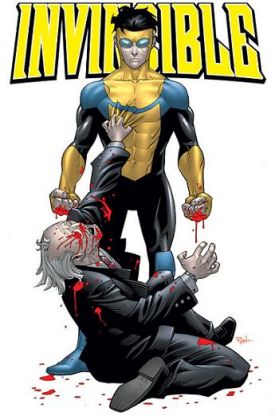 so much for the severance pay...
After a several month delay, Invincible #50 finally hits stands. The best titles in comics are often delayed for ridiculous amounts of time, and Invincible has sadly fallen prey to this trend. So is #50 worth the wait?
Heads up, all: spoilers ahoy.
In Invincible #50, Invincible confronts his boss Cecil Steadman. Cecil has been secretly employing former villains, much to Invincible's chagrin. When Invincible calls Cecil out on this behavior, Cecil does what any goal-oriented manager would do: he sics a group of zombie-cyborgs on his insubordinate employee.
Cecil also reveals he's implanted a failsafe device in Invincible's skull that emits brain-melting sonic pulses, much like an ipod filled with Savage Garden. Invincible flees to the Utah base of the Guardians of the Globe, who help save him from both the device and the zombies. Needless to say, all the shenanigans put Cecil and Invincible's relationship in the crapper. By the end of issue #50, Invincible no longer works for the U.S. government.
Invincible #50 takes its titular character in a welcome new direction. In an age of superhero registration, costumed civil wars, and comic book Crises (both galactic and psychological), it's heartening to see Kirkman go the opposite way: Invincible, and half of the Guardians of the Globe, are no longer salaried super-bureaucrats. As Marvel Comics and DC Comics struggle to make their comics adhere to "real-world" concerns (sometimes at the expense of their characters), Kirkman continues to follow his madly creative muse. Let established superheroes march towards their strained believability and nine-to-five regularity. Invincible defies the trend and recalls the reckless swashbuckling that made classic comics both an escape and a revolution. Bravo, Mr. Kirkman. Keep up the good work.
Ryan Ottley is in fine form, but when is he not? The lines are clean and sharp, and Ottley's style, as always, seems perfectly adapted to suit the unique blend of humor and suspense Invincible requires.
There are two backup stories in the double-size issue. The first, "The Secret Origin of Cecil Steadman," is interesting as background, but feels forced. It does, however, give penciler Ryan Ottley the chance to draw Brit, another Kirkman character, which will excite fans. The second backup story, an adventure featuring Science Dog (a comic book read by the characters of Invincible—oooh, meta-comics!), and penciled by Cory Walker, is shameless sci-fi fun that shows off Kirkman's manic élan.
Worth the money? At five bucks, it's a little pricey, but Invincible fans can't afford to miss this one. Casual readers won't be disappointed, either.
Last Updated: August 31, 2023 - 08:12