Indiana Jones - Let The Toy Hunt Begin
By Randy Herkowitz
May 1, 2008 - 07:29
Indiana Jones is arguably the most well known and liked adventure hero. He had three fantastic movies in past decades and a new one in May 2008. However, to the surprise of the enormous fan base Indiana Jones has acquired over the years, there has never been a great deal of merchandising, especially when it comes to action figures.


Kenner Toys produced a great series of Indiana Jones action figures and play sets for the
Raiders of the Lost Ark
film in 1981. The action figures followed a similar pattern of the Star Wars action figures. However, The Adventures of Indiana Jones action figures had increased articulation and spring loaded arms. The set consisted of eleven action figures, a horse, a truck and a few play sets. They were not a huge seller for Kenner. Perhaps, that is why they did not pick up the license for The Temple of Doom action figures. That license went to toy company LJN. LJN initially planned a good dozen figures but in the end, only three figures ever made it to retail, Indiana Jones, Mola Ram and Giant Thugee. For the third movie, the
Last Crusade
, no action figures were made at all. In the early 2000's, Disney theme park did release a series of Indiana Jones action figures and miniature play sets. They were rather crude and did not satisfy my desire for Indiana Jones action figures.
Nineteen years later, George Lucas and Steven Spielberg are at it again with a new installment of the Indiana Jones series titled,
Indiana Jones: The Kingdom of the Crystal Skull
. This time there is no shortage of products and especially action figures!
Besides all the prop replicas and premium format statues and dolls made by a variety of toy companies such as Sideshow Toys, Medicom and Kotobukiya, Hasbro Toys has nabbed the license for all four Indiana Jones films to produce action figures and related products! Leading this project are many of the Hasbro Toys team that have worked on the ultra successful Star Wars action figures.
The first series that should hit retail very soon are from the first film,
Raiders of the Lost Ark
, and they look great from all the pictures I've seen! They are movie accurate and produced in the 3 ¾" scale. Shortly after the first assortment of action figures from
Raiders of the Lost Ark
, Hasbro will be pushing forward with action figures and toys from the new film,
The Kingdom of the Crystal Skull
. The other films should start receiving the plastic treatment shortly after. I can't wait for a Short Round action figure from
The Temple of Doom
!
Hasbro Toys and other major merchandising companies have no intention of stopping at action figures and action dolls. There will be "Designer Toys" style Indiana Jones PVC action figures; by Kotobukiya's ArtFX series and even Hasbro Toys will be doing their popular designer toy styled action figures called, Mighty Muggs. In addition, on tap are busts and statues by Gentle Giant, kid friendly Adventure Heroes from Hasbro Toys and the ridiculously amazing Mr. Potato Head "Taters of the Lost Ark"! Already on store shelves are Indiana Jones Lego sets. You have to love Lego's. They allow you to create your own world for Indian Jones or whatever else you can imagine.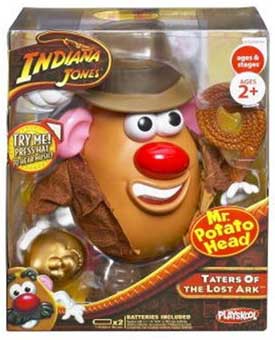 Mr Potato Head Indiana Jones, from Hasbro
When the action figure world was clamoring and begging for Indiana Jones related merchandise, I don't think they (myself included) ever expected so much merchandise and such variety. I am geared up to at least buy the regular action figures and related items by Hasbro. I just hope my wallet can handle it.
When it all comes down to it, what's really most important is that the film itself lives up to the high expectations that diehard and casual fans expect. Not that if it is mediocre it would really stop me from buying the action figures but there is a load of other movies coming out this summer that will be accompanied by action figures and related merchandise competing for my entertainment budget. With films such as
Iron Man
,
The Dark Knight
,
Narnia: Prince Caspian
,
Speed Racer
,
The Incredible Hulk
,
Hellboy
and whatever else that may have slipped my mind. This may be one of the biggest summers for merchandise friendly films in a very long time. I'm getting more excited by the moment! I am also feeling my credit card dept growing as well, but thankfully I have my priorities straight, toys first, bills second.
Last Updated: January 24, 2022 - 10:57