Inception
By Zak Edwards
July 19, 2010 - 21:00
Inception, Christopher Nolan's latest film, Inception, is a dream heist film which offers up many questions about existence and reality, as well as our ability to perceive and properly interpret the signals given to us by our reality, over simply giving his audiences a good caper with plenty of twists and turns. Rumour has it Inception is one of director Christopher Nolan's original movie ideas, one which he has been in the process of creating since before his breakthrough film Momento, and the length at which this film has been created is only reflected in the overall excellence of the film. But make no mistake, while the marketers love to put Leonardo Dicaprio at the forefront of the film, this is Nolan's and Nolan's alone. A brief warning, however, this film is probably largely inappropriate for children, not only because the film can be difficult to grasp (and it seems the negative criticism of this film largely relies on people reacting to their inability to fully understand the film), but because the film is also violent and contains scenes which are probably not best viewed by children.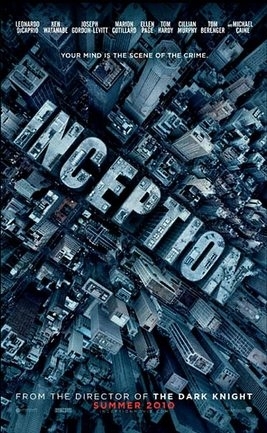 The film is at its essence a heist film, even if the opposite of theft is happening, and it is easy to lose track of this throughout the film, mostly because of how Nolan draws you into the side of Dom (Dicaprio) and it is very difficult to sway from that standpoint. Even his companions, the charming English thief, the incredibly talented duo of Ellen Page (Juno, Hard Candy) and Joseph Gordon-Levitt (Brick, (500) Days of Summer), are difficult to remember as thieves and liars instead of heroes, and professional ones at that. But, if there is to be a fairly large complaint for this film, it would have to be in the characters, as each one seems to occupy a fairly archetypal space. Dicaprio's protagonist, Dom, is a tortured and desperate criminal of honour, Gordon-Levitt his serious and reserved sidekick, Ellen Page lacks any amount of depth for much of the film, acting only as Dom's conscience and watchdog in cases. Perhaps the most obvious of these archetypes is also the most charming: the British trickster thief, who offers some comic relief while also becoming a James Bond occasionally at various points throughout the film, occupying a fairly stereotypical place in the film, only to reinforce the film is about the worlds they inhabit. The heist doesn't rely on these characters, or a big reveal or plot twist the genre generally hinges upon; instead, the film relies on its concept, fully realized, and the action and consequences resulting in the existence of such a technology. This, in some ways, is how great science fiction is executed and can be seen in the works of some of the genre's best works like Neuromancer, Do Androids Dream of Electric Sheep, and The Matrix. Nolan's idea, that people can be inserted into dreams constructed by another and have their thoughts and secrets stolen, called extraction, is taken a step further. The film instead revolves around the opposite premise: the notion that not only can thoughts be stolen, but thoughts can be planted, which is an entirely more difficult procedure. Because of this difficulty, but also the concept within a concept, Nolan doesn't hold hands through the film. The history, purpose, and general idea of the dream technology are all there, but Nolan has faith in his audience's intelligence to grasp the concept with little repetition. This, simply put, means you have to be alert, indeed, I feel the film needs to be consumed multiple times in order to have a better idea and interpretation. I've heard the criticism of pretentious, which is mostly an argument of a general lack of understanding over the film's pretentiousness. I've also heard the argument for unrelatable characters, but that is hardly a legitimate criticism if one wants to explore anything in art. Nolan isn't being overtly political in his discussion of ideas, but arguing questions of identity and reality, allowing for many of these criticisms to become fairly inconsequential.
Apart from being intelligent and in love with its own ideas, the film is simply a cool film in a lot of other ways. Nolan's style is here in technique as well, especially in both his manipulation of time and look. The film gradually takes place on more and more levels of time, as dreams within dreams begin to effect the timing of scenes. Basically, a dream within a dream is longer than the time of the first, leading to a continual cut back to a van falling off a bridge which lasts twenty minutes while entire lifetimes are experienced below these dreams. It may sound confusing and difficult to follow, but Nolan doesn't purposefully confound, he simply expects his audience to actively participate. As for the look, everyone is stylish and cool, the characters travel the world, getting into scraps along the way. The film looks one part James Bond, one part The Matrix (and in some shots all The Matrix, right up to the greenish tinge) and the rest Nolan's usual look. The actions sequences are amazing, with some scenes with shifting gravity becoming easily some of the coolest scenes in the film for sheer fun to look at. Inception resists the urge to rely on CGI, instead creating special effects scenes which use cool techniques and tricks rather than simply adding CGI in post-production. I remember reading somewhere about Batman Begins that Nolan would use a real person whenever he could, with scenes which could have easily been recreated later were instead shot with people, and this mode of thinking is obviously in Inception, so much so that some of the obviously computer generated special effects almost look completely out of place. Nolan has crafted a film which could have easily been a fairly CGI heavy concept and instead went for a movie that looks believable to some extent, which helps with the thematic concerns of reality Inception takes on and questions. When events, even those which are unbelievable, look as though they are actually happening, perception wavers.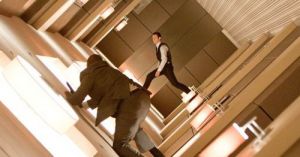 Christopher Nolan's Inception does not disappoint, even following up the intensely popular and intelligent Dark Knight, which itself concerns itself with grander themes than the good versus evil tropes most prevalent in the superhero genre. Inception rather uses a technological possibility to explore how the mind works and interprets the stimuli it encounters regularly, all the while blurring the distinctions we commonly hold. All this and still making a film that is sleek, cool, and fun to watch. While some may be turned off by the more complicated parts of the film and the lack of truly relatable characters, Nolan is not here to hold his audience's hand, but rather engage in a conversation. At its core, Inception is a heist film populated by fairly generic characters, but Nolan manages to create yet another amazing film, one which could be argued to surpass his past achievements.
Grade: A Not without some faults, but most are overcome by Nolan's fully realized concept and world.
Last Updated: August 31, 2023 - 08:12