Green Lantern Diversity
By Hervé St-Louis
September 6, 2012 - 16:01
It used to be that characters within the Green Lantern comic book would say to Hal Jordan
"I been readin' about you... How your work or the blue skins... and how on a planet someplace you helped out the orange skins... and you done considerable for the purple skins! Only there,s skins you never bothered with--! ...The black skins. I want to know how come?! Answer me that, Mr. Green Lantern.
"
A few issues later, the same creative team of Dennys O'Neil and Neal Adams introduced the first black Green Lantern – John Stewart. Ever since then, Green Lantern as been the poster child for DC Comics to introduce new culturally diverse characters using non-obscure characters. Green Lantern is considered one of the top five properties at DC Comics. He's had his own blockbuster movie last year, and a television series earlier this year. Yet throughout the years, Green Lantern has been DC Comics' vehicle of choice to introduce culturally relevant characters. The first Green Lantern, Alan Scott was as waspish as one could hope. He was blond, six-feet tall and probably Protestant. However, since the new Earth Two reboot earlier this spring, Alan Scott is officially the main gay super hero at DC Comics. The character whose son was once a homosexual is now himself one and advertized by DC Comics as its gay flag bearer.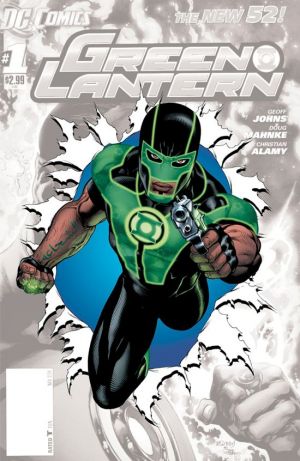 Hal Jordan was tailored much under the same waspish mould as Alan Scott and remains the main Green Lantern at DC Comics. However, for a while he had competition from John Stewart, the but also from Latino Kyle Rayner. In the case of Rayner, his Latino and Irish backgrounds were revealed much later after his creation. We've seen myriads of Green Lanterns ever since some a female, but many more are aliens. So when DC Comics announced its first Arab Green Lantern, nobody shrugged. DC Comics has a history of using Green Lantern as the conduit through which new socially relevant characters can be introduced without really alienating or removing the previous characters. There's enough space for a sixth Earth-based Green Lantern it seems. I'm not complaining. However, I will say, that using Green Lantern is just convenient for DC Comics. They don't really have to commit to changing a major character while still using one of their big brand properties to instill some diversity into their comics.
Last Updated: March 10, 2022 - 22:00