Comics / Comic Reviews / DC Comics
Green Arrow and Black Canary #4
By Geoff Hoppe
January 17, 2008 - 15:35
Green Arrow and Black Canary #4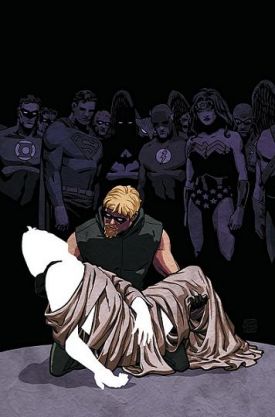 Yeah, that's supposed to be Connor.

Fact: Judd Winick scripts great action scenes.

Fact: With drama, not so much.

In Green Arrow and Black Canary #4, Ollie and company race back from Themyscira with an injured Connor Hawke (the Green Arrow's son, for all you newbies). A pickup from Superman helps Connor get back to U.S. soil quicker, where Hal Jordan goes to work in the operating room. Unfortunately, the bullet that hit Connor last issue was laced with a nerve agent that has rendered the young hero brain-dead. Connor Hawke is in an apparently terminal coma.

This is an odd compromise for a comic book writer: a character's only sort of dead, but not quite. Ever since Frank Miller first offed Elektra (only to bring his lucrative heroine back to life a few years later), death has become an obnoxious staple of the comic book world. At a loss for genuine drama? Unable to craft complex characters? Kill somebody. It always helps sales, as it did when Ed Brubaker killed Captain America last year. Judd Winick already tugged at the cheaper heartstrings when he killed Jason Todd three years ago (the second time Todd died). In this issue of Green Arrow/Black Canary, he renders Connor Hawke a vegetable, so at least the character isn't dead. It's a step up from the kill-'em-off school of thought, I guess, but it still feels a little cheap.

Cliff Chiang's art, mixed with Trish Mulvihill's colors, are too bright and appealing for the story. Mulvihill's vibrant palette, combined with Chiang's draftsmanship, makes the characters look a little too much like American Girls dolls, and not enough like superheroes. Given this, I find it odd that the pair's rendition of Batman (who gets a two page cameo) is gripping and convincing. Their Oliver Queen may look too pretty-boy, but their Dark Knight is appropriately gothic.

Worth the money? Only for die-hard fans.
Last Updated: January 24, 2022 - 11:00