Toys / Comics to Toys / DCDirect
Green Lantern: Hal Jordan Hard Traveling Heroes
By Hervé St-Louis
January 2, 2011 - 08:50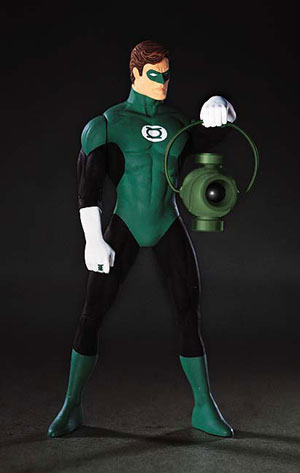 This is the first Green Lantern action figure by DC Direct. At the time, the merchandising unit of comic book publisher DC Comics was just learning how to spun larger action figures for collectors. Influenced by McFarlane Toys, they focused much more on the sculpt than articulation and posability.

The Hard Travelling Heroes Green Lantern Hal Jordan was slightly turning on his left and carried a cool looking Green Lantern battery. His right arm looks puny next to his body while the left one was shaped to carry the lantern as seen in the picture.

The sculpt was inspired by Neal Adams but not a direct clone. Hal Jordan was released along with Green Arrow and Black Canary. At the time, these three were considered the big shots at DC Direct because the company could not compete with third party licensees who held the rights to make Superman and Batman toys. The previous Wonder Woman action figure had been a disaster.

What I like about this action figure is the sculpt. It was reused for the Hal Jordan Spectre action figure, a mistake if you ask me. Nowadays, there are far more Hal Jordan action figures to pick from DCDirect. WIth Green Lantern Rebirth and onward, many were released. However, if you're looking for the perfect action figure for your Bronze Age Justice League, this is the one. DCDirect also released a Silver Age Green Lantern and a Superfriends' Hal Jordan (all reviewed at The Bin) years later.

The Hard Travelling Heroes Hal Jordan is most likely completely sold out and will cost you big bucks - I'd say over $100, if you're trying to find it at an auction Web site. You may be lucky and find the alternate version created for the Brave & The Bold #28 set which includes early DCDirect action figures of the founders of the Justice League (Flash, Aquaman, Wonder Woman, Martian Manhunter and Green Lantern, of course). However, be aware the hat green hue on that figure is much lighter than the original Hard Traveling Heroes. If you're to pay big bucks for this action figure, please make sure it's the original and not this late alternate re-release which is not worth nearly as much (you can find the alternate as part of the Brave and the Bold set or apart from it all easily).

If you're not into collecting older action figures, just stick to newer Green Lantern ones which are better articulated and with more sensible posing. This figure came with nine articulations points at the neck, the shoulders, the elbows, the hips and the knees. The articulations on the knees were the V-shaped variety. That means it's totally useless!
Rating: 7.5 /10
Last Updated: January 24, 2022 - 11:00