Full Metal Panic! Season 1
By Chris Zimmerman
Sep 16, 2010 - 9:52
Mecha and anime go hand in hand, dating back to classics such as
Mobil Suit Gundam
and
Neon Genesis Evangelion
, the genre is widely considered a benchmark when it comes to the medium.
Full Metal Panic!
Isn't necessarily the widest recognized mecha series, often overshadowed by those previously mentioned, however it deserves its place among them as one of the best to spring out of the genre.
Originally a series of light novels( or young adult novels in Japan) authored by
Shoji Gatoh
,
Full Metal Panic
enjoyed a healthy dose of success with an anime adaptation, manga, toys, and even a live action film currently in development. The anime first found its way stateside thanks to
ADV
before they closed up shop and was subsequently rescued by
Funimation
.
The series takes place in an alternate world in which history never saw the end of the cold war and hostilities between China and Russia continue to escalate. Rather than waging battles with armies, advanced technology in the form of mobile fighting units called Arm Slaves do the majority of the groundwork. Among this expertly skilled unit is the soldier Sousuke Sagara. Because he carries the acumen of being among the best, Sousuke is assigned to protect a fiery high school girl by the name of Kaname Chidori who finds herself on the receiving end of terrorist attacks because of her presumed distinction of being a "whisperer".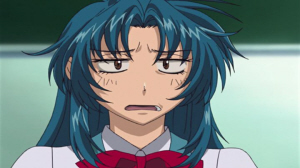 Whisperers are children born with an innate understanding of advanced technologies that could easily shift the war in any nations favor were they to acquire all of them. Because of this, the pair are constantly struggling to fend off enemies as well as each other at times. While Chidori sees Sousuke as a stalker, his continuous attempts to carry out his mission without revealing his true objective plays into the humor of the series early on. This is put to the ultimate test when Sousuke is pitted against the series' main antagonist in the form of Gauron, whose main goal is to kidnap Chidori.
Fortunately for those thirsting for action, the series delivers on its premise, with handfuls of mecha battles spliced in between moments of character development. The series tends to focus a great deal on the burgeoning relationship between Sousuke and Chidori. The two certainly get off to a shaky start but by the time the final credits role, their relationship has developed into a natural pairing that doesn't come off as forced in any way.
Funimations
re-release comes in a four DVD thinpack. The image quality is consistent with their past releases, with vibrant colors and few instances of aliasing. The set retains its original aspect ratio of full frame and stands as one of studio
Gonzo's
better efforts in recent years.
Sadly, in keeping with past releases, there is hardly any bonus features to be found. Clean animations and trailers for upcoming releases are par for the course.
Full Metal Panic
is definitely a show worth going out of your way to see. While the mecha genre has become somewhat saturated in recent years,
Full Metal Panic
takes the classic formula and turns it on its head, producing a franchise that blends equal parts action and humor for a gratifying experience that no fan of mech or anime for that matter should be without.
A
Last Updated: Jun 26, 2018 - 9:28