Comics / Spotlight / Progressive Panels
FF #1
By Andy Frisk
March 16, 2011 - 14:24
"That stench you smell is stagnation…our brothers…have lost their nerve…and for too long we had lost our way…" These opening lines, spoken on the first page of Hickman's fantastic new FF #1, set the table for the most imaginative and creative shock to the system that is one of Marvel Comics' oldest franchises. "The Human Torch has died. The Fantastic Four is no more. Welcome to tomorrow. Welcome to the Future Foundation." Welcome to tomorrow indeed…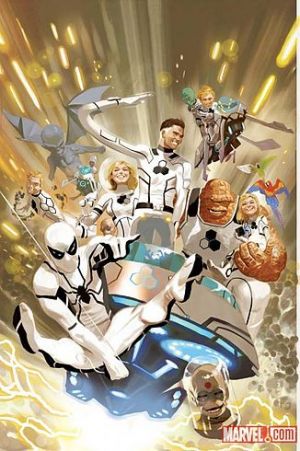 From the outset, it's very obvious that this isn't the Fantastic Four of yesteryear. While the thematic elements that made the original FF so enduring are still here: Reed and Susan (Mr. Fantastic and the Invisible Woman) remain the perfect match, Ben Grimm (The Thing) is moody and emotionally complicated as ever, long term FF friend and ally Spider-Man, who's basically an honorary member of the family at this point, is still around (this time in a more permanent capacity), the Richards' kids and their friends remain wonderfully precocious and vibrant, and old enemies are…potential team members? Here's where FF #1 strikes out truly on its own. FF, or Future Foundation, looks to be a much wider ranging ensemble team book that will be packed with surprises and twists that will inject even more life into the incredibly lively things that writer Jonathan Hickman has been doing with Marvel's first family as well as with one of the Marvel Universe's oldest legends S.H.I.E.L.D. over in the pages of S.H.I.E.L.D. Reed Richards' Future Foundation is the culmination of everything that the original Fantastic Four stood for taken to the next level. The goal is to not only save the world, but make it the best possible place it can be in every way.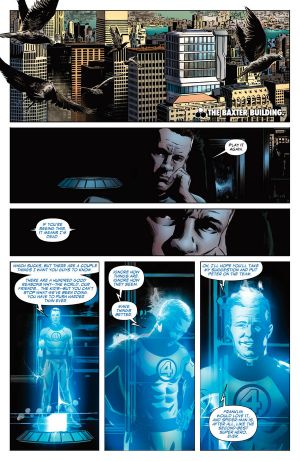 This first issue of what is a truly unique Jonathan Hickman creation (which takes its inspiration from the original Stan Lee and Jack Kirby creation and pays homage to it) is a truly rare thing in the world of comic books these days. It is a first issue that really gets the reader interested in what is to come and how these old and well known (some might say too well known) characters will be presented in new and exciting ways. It's too early to tell, but might Future Foundation do for some of Marvel Comics' oldest characters what New Krypton did for Superman over at the Distinguished Competition? Under the direction of Hickman, who ever since his visually groundbreaking and incredibly well written The Nightly News has been one of the genre's fastest rising and most interesting and intelligent writers, this might very well be the case.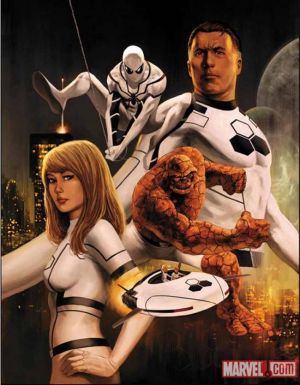 Hickman's collaborator, Steve Epting (Captain America, Avengers Assemble) is the perfect artist to bring this new age of Marvel Comics' first family of heroes to life. His incredibly realistic style brings the book's fantastical sci-fi elements to believable life. His superheroes always look believable, even when drenched in the original standard four color costumes, or the FF's new black and white costumes. Speaking of the costumes, they are incredibly cool in every sense of the sci-fi aesthetic. The Future Foundation's new symbol is also quite ingenious itself in its design. The hexagonal design consisting of three hexagons that alternate between being either two white and one black or two black and one white reflects the fundamental shape of the building blocks of crystallization, a process that is constantly growing and changing the foundation of its original matter, kind of like how the Future Foundation plans to build upon itself (and what they achieved as The Fantastic Four) and expand. The symbol is highly representative of Richards' mental process and intellect as well, which builds upon itself to reach new conclusions and achievements. Finally, it is a symbol that represents the three founding members, but it is not a complete and uniform symbol. There is an empty spot in one of the hexagons (represented by its alternate coloring as compared to the other two), and there is a big empty spot in the hearts of the Fantastic Four's remaining members…Finally, (extending beyond the fourth wall thematically) it also represents what Hickman himself is doing with Lee and Kirby's original Fantastic Four mythos. Considering Hickman's highly symbolic and intellectually intricate work, he undoubtedly intended all of this. It's quite brilliant, again like most of his work is.
Time and time again it is demonstrated in the world of comics that sometimes the oldest characters can still be the best characters. All it takes is talented artists and writers to remind us of this fact. Hickman and Epting are doing this in an incredibly engaging and powerful way with FF. Even if this book lasts for a fraction of the time that its parent book did, the world of comics will be better for it.
Rating: 10 /10
Last Updated: May 19, 2020 - 12:25