Dragon Eye Volume One
By Julie Gray
Jun 28, 2007 - 22:21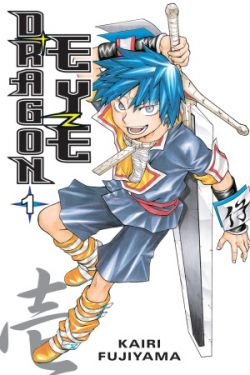 Dragon Eye Manga Cover Art
"Secret Weapon"…
When I first took a look at the
Dragon Eye
manga, I initially thought it was a kiddie manga trying to be something else. But the artwork in
Dragon Eye
is exceptionally good and really gives this manga the edge it requires to keep you reading. It reminds me a lot of
Bleach
in both style and feel.
The background of the manga pertains to a virus that takes over the world leaving bloodthirsty monsters called 'Dracules' behind in its wake. The only cure is death. An elite band of warriors called the VIUS squad are the only thing stopping the Dracules from total world domination.
From within this group of VIUS warriors emerges the two main characters and focus of the story; Leila Mikami is a brand new VIUS recruit who has a destiny to become the most powerful warrior in the world and the strange yet enigmatic Issa Kazuma who is the owner of the powerful and mystical
'Dragon Eye'.
The cast of characters in this manga is quite vast with at least four other characters featured. The focus though remains with Leila Mikami and her quest to obtain the '
Dragon Eye'
and of course to finally avenge her parents' death.
At times the dialogue is probably the only area that I felt wasn't up to the standard of the art work. In some places the dialogue didn't always flow very well or make sense even though the storyline itself is engaging. The side-story regarding Issa Kazuma and talented swordsman Sosei-san is interesting and provides a brief interlude from the main storyline.
This manga would easily appeal to those manga lovers who enjoy manga with interesting characters and fast-paced, sword fighting heroics. And as each character is revealed, the side-story that eventuates in this volume certainly paints a darker picture of our enigmatic hero Issa Kazuma. With so many plot developments and loose ends, I'm very much looking forward to reading the rest of this series.
Dragon Eye: Volume One
features character and Dracule bios, translation notes and a sneak peak of volume two in the series in original Japanese. You can find a preview of the first volume of
Dragon Eye
here
on Del Rey's website.
Art Work:
8/10
Story:
7/10
Overall Rating:
7.5/10
Contact the author of this review:
Julie@comicbookbin.com
Last Updated: Jun 26, 2018 - 9:28