Comics / Comic Reviews / DC Comics
Detective Comics #950
By Avi Weinryb
Feb 12, 2017 - 14:53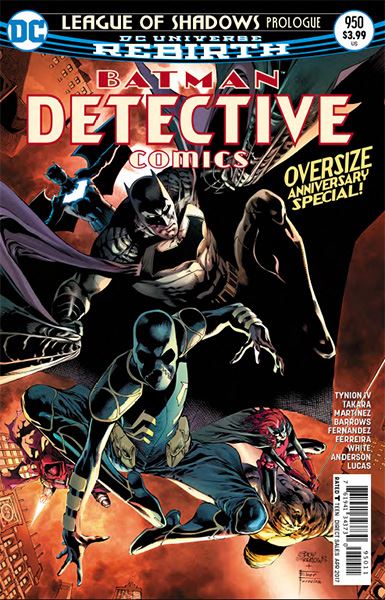 This oversized anniversary special contains three stories. The main tale covers the tormented life of Cassandra Cain (Orphan), a stone-cold killer seeking to come to grips with her deadly instincts and personal life as she continues to serve on the Bat team. When the Mayor of Gotham approaches Batman about forming some sort of partnership, his motives are shady. Cassandra overhears the conversation but has bigger things on her mind -- and her problems will soon increase because a certain someone from the League of Shadows is taking an interest in her. A second tale, beautifully illustrated, features an action-packed dialogue between Azrael and Batwing in a simulated battle. The revelation about Azrael's armor and its spiritual secrets is fascinating and the risks posed by this hidden truth is just waiting to turn into a full-blown crisis. Meanwhile, the final story features a conversation between Batman and Robin (Tim), in which the boy wonder calls out ol' Bats for building a Bat team that will rival the Justice League, pointing out that he is preparing for some sort of war and should come clean about his motives. It's an interesting question; why HAS he been building a team when he is famous for working solo or at least with one young protege?
James Tynion IV delivers a Detective Comics #950 that is not focused on Batman. It's some of the other detective/crime fighters in the Bat-world at the forefront here. The main tale, a prologue to a new story arc, takes us deep into understanding what makes Cassandra Cain tick, featuring gorgeous art by Marcio Takara. There's a beauty and grace to the movements exhibited by Cain as she dances both ballet and the ballet of death that comes with fighting criminals. The moment in which she surveys Batman and we can see what she sees -- every pressure point and weakness she could exploit -- it's a chilling moment, sharply captured by Takara.
In the first back-up story, "Higher Powers", Tynion IV brings us a quick but deep vignette about spiritual combat, artificial intelligence and faith. The fight sequence, in a virtual basilica, is gorgeous, demonstrating Alvaro Martinez' attention to detail and Raul Fernandez' complementary inks, elevating the illustration to greater heights. It's really a case study in penciller and inker working in lockstep to produce a top-caliber work. The cliffhanger ending adds to the reader's delight.
The second and final back-up tale, "The Big Picture" is exactly that -- cutting to the question of what frames Batman's building of a team that could rival other groupings of heroes in the world. Eddy Barrows brings us more than capable pencils, bringing a moody Gotham to life with all the right touches and flourishes. Eber Ferreira's inks are finely overlaid, adjoining the pencil work with a light touch that captures the grain on Batman's cowl as well as his face.
Batman and the Bat-family have been well represented across the various Bat-titles for the last while and this issue is no exception. Here's to future milestone issues! And all that comes between.
Rating: 8.5 /10
Last Updated: Dec 19, 2017 - 22:52