Creator Spotlight: Rosena Fung
By Avi Weinryb
December 27, 2006 - 02:00
When I first asked Rosena Fung if she would be interested in being the subject of a Canuck 'Creator Spotlight' interview, she responded with the same ridiculously large amount of enthusiasm she brings to her comic work. By reading this piece, you will gain knowledge about an intriguing cartoonist armed with a sense of humour that is best described as 'zany'. Rosena is twenty-two years old --- her comic career is only beginning. The quality of her work guarantees that it will be a long and auspicious one.
Enjoy the interview and be sure to click on the images throughout in order to read enlarged versions of The Soap Box comic strips.
Comic Book Bin: How did you first get into comics?
Rosena: I was six years old and in love with Archie Comics; then, I swore I would draw Archie Comics when I grew up. There was just something about the medium that I thought was—and still think is—the most perfect medium developed by anyone, ever. And while I've dabbled in other art, I always returned to comics, either reading them or drawing them. It's like finding your one true love at age six. Thrills!
CBB: What inspired you to start your own strip?
R: Reading For Better or For Worse and Calvin and Hobbes in grade seven: that was my graduation from Archie. Since then I've had a bunch of comic strip projects, constantly changing up characters and premises. The Soap Box was one of many of these projects that I wasn't completely mortified with and I've stuck with it, though I've worked on other projects since then, too.

Click to enlarge

CBB: What kind of challenges (if any) do you encounter when working on The Soap Box?
R: Writing is probably the hardest part, and keeping it consistently funny. More often than not, my ideas come in sporadic spasms at any hour of the day, like if I'm class or at work, and then I'm scrambling to find paper and pen to write it down before I forget it. And then because I'm so unorganized, I usually lose those bits of paper and never remember what I wrote. Sometimes it's like that Seinfeld episode where he couldn't read or understand what he wrote in the middle of the night…I'll look at what I wrote afterwards and it doesn't make sense or is incredibly unfunny. But that's better then when I sit down with the intent to write a new strip, because then I can't think of anything or rewrite something to death because I can't get it with the zing I want, so that it looks like I drove over it and reversed onto it a couple dozen times. Writing is the least controlled part of the process, though it gets easier the more I do it. Hopefully by 2030 I'll have mastered the craft.
CBB: How would you describe your drawing style?
R: Like a Victorian bordello? Like a unicorn? Like an orgasm? …I never actually know how to answer this question, I think it's because I've been working with it and changing it and adding to it for so long. I can prattle off a bunch of style influences throughout time, though: syndicated comic strips from the '90s, DC/Marvel/Image comics with titles that are probably now defunct, urban and hip hop art, manga, graffiti art, those slick ads and logos from hip retailers, PvPOnline is probably the heavyhitter for The Soap Box in particular. There are probably more that I can't think of now but will probably remember when I wake up in the middle of the night.
CBB: Would you say there is anything uniquely Canadian about your strip?
R: I guess it is in the way that I myself am a product of a specific Canadian context, but I don't know what it means to be "Canadian" in any sense of the word. My strip is probably only one representation of a Canadian experience rather than a homogenous, all-encapsulating one. I do try to add local details when I can, like TTC bus poles! But I actually have a very bad eye for detail and I'm probably the most unobservant person you will ever meet, so I tend not to include specific Toronto details as much as I'd like. I envy Bryan Lee O'Malley and his crazy talent.

Click to enlarge

CBB: Tell me about your self-published book (Plug away!).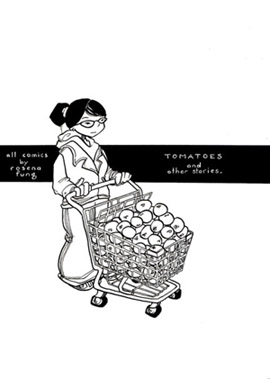 Click to enlarge
R: I self-published a comic book called Tomatoes and Other Stories last year and it was my first foray into writing longer comic narratives—up till then, I was only drawing strips. The book consists of four unrelated stories and its tone is pretty laid back and casual. It was neat getting to do something very different—there was no compulsion to end things with a punchline. Yet it was difficult in other ways, because I had so much more liberty with timing, dialogue, and other cinematic features that a four/five panel comic doesn't have, that sometimes I wasn't sure what to do with all that space. But anyway, the whole thing was a joy, like a little miracle baby from my creative loins, and it was fun to do and splendid to see in print after all the logistics were dealt with. It's distributed in several comic/book retailers in downtown Toronto , and selling for $3 a pop. It's available at The Beguiling, The Toronto Women's Bookstore, Grey Region Comics, Silver Snail, Pages Books and Magazines, and The Hairy Tarantula.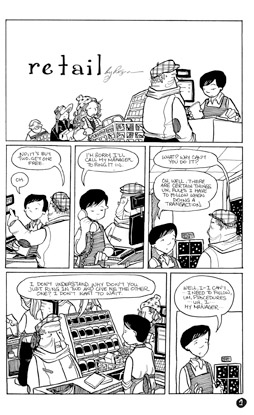 An excerpt from 'Tomatoes and Other Stories'.
CBB: Has the Internet provided your work with a diverse audience?
R: I'm actually not very techno-savvy, so I don't have a site up yet and I don't know how to navigate the Internet waters to draw in an audience even if I did. If you google my name, you'll get some really crappy strips I made when I was a young'un, so any Internet audience I have from that is probably tsk-tsking the amateurishness of it all. One day I hope to run a daily/weekly webcomic. But interviews like these help me broaden my scope!
CBB: You clearly have a very unique sense of humour – What inspires your comic comedy?
R: I tend to gravitate towards really absurd things. I used to watch a lot of crazy Hong Kong Stephen Chow comedies with my dad when I was young. Those movies are crazy! They're so different from North American comedy movies, where everything is overt and pretty lame most of the time—these movies I'm talking about are off-the-wall ludicrous and absurd. Humour in the former is like being handed a smelly dead sardine, while the latter is like getting repeatedly slapped on the head by someone wielding a dead bass, fresh from the water. And then I love humour in casual conversation, and postmodern irony that every university student is obliged to like at one point in their life. See, that's more a result of me having ideas above my station, I think.

Click to enlarge

CBB: Do you see yourself making comics in the future? Is it a goal of yours?
R: I'm going to be drawing comics until I'm dead, or when my hand falls off—and then if it does, I'll make myself relearn how to draw with my other hand, or my foot, or whatever. I don't foresee ever stopping with comics, and I'll probably keep coming up with new projects all the time. If you mean "future" and "goal" as in a career, I don't know, but it would certainly make me extremely happy. It's definitely something I intend to pursue, so we'll see how it goes.

Click to enlarge

CBB: What comics and/or cartoonists do you admire? Why?
R: There's a lot. Right now, I'm in love with Adrian Tomine, Seth, Bryan Lee O'Malley's Scott Pilgrim, Frank Miller, Julie Doucet, Chris Ware, Hergé and Kazu Kibuishi because damn, they can tell a really good story and their art is just magnificent. There are some comics that I read every morning: in the syndicated world, these are Get Fuzzy, 9 Chickweed Lane , Liberty Meadows, and For Better or For Worse, because out of all the syndicated comics that are still going on today, these are the ones with the best staying power. It's so easy to be trite and conventional, and fall into a rut in syndication: these are the few that have lasted and refreshed itself whenever necessary at the risk of alienating its audience. For webcomics, I have a crush on Ryan North's Dinosaur Comics, PvPOnline, ScaryGoRound, Cyanide and Happiness, Sluggy Freelance, and I recently discovered the Perry Bible Fellowship. These are all great in their own way, and I could go on and on extolling particular virtues, but they're bsifieds/pictures/lest experienced yourself! And I'll always have a special place in my heart for Bill Watterson and Gary Larson, because they both went out in style, instead of running their well dry and becoming another mild-mannered one-joke gig for the bourgeoisie; also because their comics were consistently awesome.

CBB: Thank you for your time – and the great comics!
_________________________
Last Updated: April 9, 2021 - 22:22