Comics/Culture #3: Stray Bullets and Billy Joel

By Zak Edwards
August 29, 2014 - 19:23
Stray Bullets: Killers #6 came out last week and, as always, I was excited to get my copy and even more delighted by how good the series still is. In fact, saying it's just as good is an insult. The years writer/artist David Lapham took off from from his beloved Stray Bullets gave him more experience, and that experience is in every panel of its glorious return.

But every time I pick up an issue, I think of Billy Joel.

You see, Michael Ian Black wrote one of the funniest books in existence back in 2008 called My Custom Van. In between the introduction by Abraham Lincoln and a fictional story about getting told off by a woman in an elevator, Black writes the story of Billy Joel heading to a party, knowing in his heart of hearts they're going to make him play "Piano Man." Despite a career spanning 5 decades, Billy Joel is going to have to play that one song, his first big hit, and everyone's going to pretend like he hasn't been forced to play that song his entire life. It's a funny little story, but it's also a little heartbreaking. Billy Joel being forced to play that song over and over and over, after all, is probably the case.

Now, David Lapham's Stray Bullets may not be the same. He seems excited in all his interviews, a man who can't wait to get back to a project that he abandoned because he needed to pay the bills for his growing family. But part of me wonders if Lapham and Michael Ian Black's Billy Joel have something in common. Is Lapham a bit pissed that he's shackled to something he did for 8 years a decade ago? I bet Paul McCartney is sick of taking questions about The Beatles, especially since that was a 10 year period back when he was in his 20s. He's 72 and still has to respond to questions and speculations about one band for almost 45 years now, over 4 times longer than The Beatles were even together.

Fans have a hard time letting go of the products that have had a significant impact on them, be it an indie crime comic from the 90s or a cancelled space western starring Nathan Fillion, and that's fine, but what about the creators themselves? Just as Radiohead rarely plays "Creep" anymore because they kinda hate it, is pigeon-holing creators into their past successes not only demeaning, but stifling? And in turn, is it hurting the industry as a whole?

The comic industry, especially on the convention circuit, plays into past successes just as much as the music industry. While Twisted Sister sells out stadiums full of people who just want to hear "We're Not Gonna Take It" live, fans will line up around the block to get Lou Ferrigno's autograph on a picture of the Hulk. Hell, at $40 bucks per autograph, you could argue signing his own name is Ferrigno's primary income at this point. Rumour has it he's not very nice in person at conventions, and when I read these gripes I think, "Well, he's got to be so bored at this point, and certainly feeling more than a little trapped."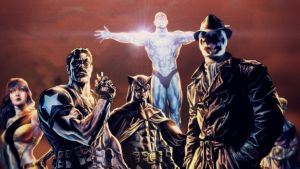 In comics, however, there is something a little different about clinging to these older properties, something that, unlike going to hear Journey play "Don't Stop Believing" again or discovering Lou Ferrigno doesn't care about you, can take away from these properties by adding to them. Probably the most notable recent example was DC Comics'
Before Watchmen
event, where a bunch of creators got together to make prequel comics for one of the most revered series of all time. These supplemental comics were almost universally reviled critically, but the question after all the hardcovers were lined up next to
Watchmen
on the bookshelves was, "Did this actually add to the series, or detract?" It's a hard question to ask, but the idea of adding, of filling in the gaps, is how most comic companies make their money. It's the threat of not knowing in a hobby where people pride themselves on knowing. Being a walking Marvel encyclopedia isn't just a point of pride for someone, it's part of Marvel's business strategy, and this strategy may be limiting comics as a whole.
We have seen this happen with creators and their own series as well. Brian Azzarello and Eduardo Risso recently returned to
100 Bullets
to tell a story about Lobo, despite the original series being a wonderful, whole story unto itself. Neil Gaiman's many returns to the world of
Sandman
are consistent sellers but, especially with this new series, I wonder what we're actually gaining here, besides more of the same. If anyone read
The Ocean at the End of the Lane
, you'll know that Gaiman has been telling the same story for awhile now, as beautiful and wonderful as they are. Sandman: Overture seems just a logical extension of capitalizing off past fame.
This phenomenon isn't limited to the comics industry either. In Hollywood, they call it an established audience and studios now rely on the excitement of reboots, adaptations, and sequels to do most of the marketing for them. Casting announcements made up the majority of
X-Men: Days of Future Past
's marketing strategy, just simply sending out press releases that Anna Paquin would reprise her role as Rogue was more (basically free) publicity than any original idea could ever hope for. It's not that Hollywood ran out of ideas, it's that old ideas are cheaper and more successful. Hence
The Amazing Spider-Man
reboot. Hence
Full House
possibly returning to television. Hence Quentin Tarantino being the only major Hollywood director left with a career of his own ideas. Only Christopher Nolan and James Cameron can boast making original, blockbuster films today, and that was after cutting their teeth on franchises.
Now perhaps
Stray Bullets
is an unfair comparison to
Before Watchmen
and this is a legitimate chance for Lapham to tell the stories he hasn't had the chance to tell since 2004. We can see the series pop up in some of his other work, most notably his Vertigo work, that plays between long-form versions of
Stray Bullets
and the surreal adventures of Amy Racecar. The fact
Stray Bullets
is back and better than ever (and I'm actively purchasing it) leans me towards the revival being a good idea. That Lapham coming back to his old work is beneficial for him and the series. And perhaps this is why Image Comics in particular is so important: they have created a publishing house whose backbone is original series, not shared universes, clones, or licensed materials. But it also shows that, more than anything, people want something new, not something repackaged. Although the repackaging can be good too. Who knows, maybe
Girl Meets World
will be the next
Sopranos
.
Last Updated: February 5, 2023 - 09:06