Comic Journalism Is Not Dead
By Hervé St-Louis
September 6, 2016 - 11:11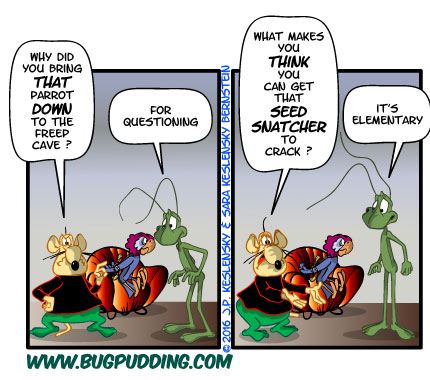 BugBudding made by a J.P. Keslensky (a white man!) is still the kind of innovative comics ignored by old school comics media. © 2009–2016 BugPudding
Following the redesign of
Comic Book Resources

into

CBR
a few weeks ago, long time columnist
Augie De Blieck Jr.
who also writes for
ComicBook.com
, wrote a long swan song about the death of comics journalism and how it never existed. His essay's main thesis was that the age of the Hollywood blockbuster has taken over comics and most of the entertainment news found on comics sites is about movies, not comics.
I agree and disagree with some of the statements made by De Blieck but overall, I find his article misguided and a bit insulting to many folks who work in comics media. First, the observation that comics media is more interested and has better results when it covers film and games instead of comics is nothing new. When
Newsarama
, the long time competitor to Comic Book Resources was bought in 2007, it became an "entertainment" destination as opposed to one solely focused on comics.
Newsarama lost its soul and became another generic entertainment site then. It also finally lost its fight against Comic Book Resources which became the leading comic media site. Now that Comic Book Resources has been acquired by a small media conglomerate, it too has become the entertainment venue for its owner instead of being only about comics. Its redesign from ComicBookResources.com to CBR.com is not an exciting or really controversial change.
Its new owner has to maximize results and unfortunately, comics news do not earn as much as generic movie news. Given that super heroes and other comics properties dominate entertainment today, it is a bit foolish to expect corporate entertainment venues based on a mix of
Buzzfeed
and
Hufftington Post
quasi-news, quasi-entertainment models to provide hard news like the
New York Times
.
Newsarama and Comic Book Resources have always been about entertaining their readers while working closely with larger comic book publishers, becoming their mouthpiece for hype and press releases. At
ComicBookBin
, I have covered
yellow journalism
countless times. Others have also covered this trend many years ago. To complain about Comic Book Resources openly adopting this model today and then claim that it is the end of journalism is myopic and insulting to all of the other people who provide real coverage of comics that is independent from promoters.
De Blieck equals comics news with Comic Book Resources. Its drastic change, according to him, means that no one is doing any serious work and criticism of comics. He mentions
Bleeding Cool News
but also criticizes them for their gossipy nature. Meanwhile he ignores the work of legitimate comics journalism like
Tom Spurgeon's

Comic Reporter
,
Heidi McDonald's

Comic Beat
,
Sean Kleefeld
,
Comics Bulletin
,
Broken Frontier
,
Graphic Policy
, ComicBookBin's own contribution, and that of many more reporters and critics.
None of the people or organizations mentioned above have the financial means of Newsarama or Comic Book Resources to pursue comics news. They do it on a pittance. Yet, they do their best. Their relationship with publishers tends to be more independent. They also cover more than super hero comics or blockbuster like genres. De Blieck really equates comics news with mainstream and large publisher news.
In his article, De Blieck asks where the new generation of comics reporters and news will come from. He argues that Scholastic's venture into comics is probably training the next generation. The problem with this premise is that for De Blieck comics are only "legitimate" and worth covering if they come from large publishers. De Blieck has completely ignored all the work that is done in what I have termed "
nouveau comics
" and the web comics' space.
The new generation of comic readers reads comics about queer, Latino, Blacks, Asians, Desi, disabled characters, and more. They create cosplay about older comics characters and those that look like them. The creators of these nouveau comics are usually shun and totally ignored by the likes of Newsarama and Comic Book Resources. Sites like
Black Girl Nerds
have covered this emerging and changing part of the comics industry yet their contribution has remained ignored and considered on the margins of the old guard. It will take years before The Harvey Awards nominate Black Girl Nerds.
There is so much work being produced by new comics creators that has been ignored. Yet, De Blieck argues that he will try to keep up the comics journalism fight while never acknowledging that what he means is that he will continue to cover the kind of comics that 40 plus white male readers care about. He probably has no clue about the rich world of web comics and all of the non-white male creators that are attempting to find their place in the world.
What De Blieck bemoans is the lack of "independent" coverage of DC and Marvel Comics in favour of Hollywood blockbusters. He doesn't really care about exploring comics as they happen today. Sure, he covers European comics, but they are just the trans-Atlantic version of what is done in the Americas. I am personally, fully aware of the changes in comics but cannot do them justice while completing my doctoral studies. I wish that I could though.
Comics journalism is not dead. It is changing. Readers are changing. Those who were not represented and ignored for decades now want to have a voice. Creators on the Web and elsewhere who cannot get jobs at Marvel or DC Comics because they are not part of the old white men club are making the kind of comics that they want to see and reaching out directly to their fans who have learned to support them directly through crowdfunding platforms like Kickstarter, Indiegogo, and Patreon.
Astute comic reporters will have their senses attuned to the new reality and changes in comics and will be well equipped to share stories about comics-making to their readers and the world. They will also cover more than the usual suspects from large American publishers created by white males. They will report on comics created by queers, women, Blacks, and other people whose voices have often been ignored in mainstream comics discourse.
Last Updated: March 10, 2022 - 22:00