Comics / Comic Reviews / DC Comics
Brightest Day #0
By Andy Frisk
April 14, 2010 - 22:33
Boston Brand/Deadman, Arthur Curry/Aquaman, Hank Hall/Hawk, Digger Harkness/Captain Boomerang, Professor Eobard "Zoom" Thawne/The Reverse Flash, Carter Hall/Hawkman, Shiera Hall/Hawkgirl, Maxwell Lord, J'onn J'onzz/Martian Manhunter, Jennifer Lynn Kayden/Jade, Ronnie Raymond/Firestorm, Aman Tomaz/Osiris: twelve resurrected heroes and villains who have a special destiny. What that destiny entails will be revealed as Brightest Day unfolds over the course of the next few months, and hopefully it will be worth yet another crossover event. With Geoff Johns at the helm and co-writing the main series, there's a pretty good chance it just might. Johns has done a great job restoring some of DC Comics' seminal characters to prominence, and he looks to keep up the good work. Brightest Day though doesn't look like a stand in Rebirth or Secret Origin for Aquaman, Deadman, and Hawkman, etc. There's something larger afoot here, and a certain White Power Battery and Entity will definitely have something to do with it.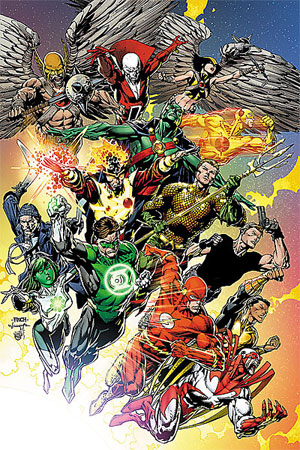 After all the death, destruction and near incapacitating despair which was narrowly averted at the end of Blackest Night, our heroes (and villains) who were selectively resurrected enjoy (in most cases) the joy of a new day and a second chance as they dawn, but not without a shadow of a question that they all seem to have on their minds: "Why me?" The only one who seems to have a line on a possible answer, but is being magically teleported around the globe to witness the resurrected heroes and villains early life re-affirming moments is Brand/Deadman (who, if you haven't been paying attention, isn't quite so dead anymore). He's pretty clueless himself though, but does at least get a cryptic answer to a cryptic question…
Whether or not Brightest Day is going to live up to the high standard set by Johns for himself (and all of DC Comics' creators) with his previous epics remains to be seen, but Brightest Day does get off to a pretty solid start storytelling wise and artistically, albeit a bit slowly. Fernando Pasarin does an excellent job bringing to life a wide range of characters and their supporting casts. He particularly does a good job of recreating Carter and Shiera, and their previous incarnations. It's great to see them back. The eternally reincarnated couple and their multiple era spanning previous lives are hands down the best versions of the characters. Hopefully, Brightest Day will inspire the resurrection of an ongoing series in which they star like it is a host of others including Birds of Prey (awesome!) and The Flash (with Barry Allen). Pasarin's vision would be nothing near the near masterpiece it is without Steigerwald and Sotelo's colors. They bring to life, quite vividly, the white light that jumps Brand around and Barry Allen's Speed Force, which allows him to vibrate through the door to Captain Boomerang's cell.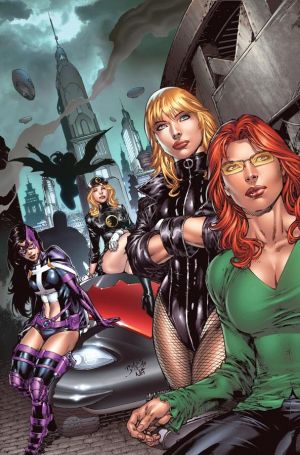 The Birds are back in town!
"After The Blackest Night comes The Brightest Day…" as DC Comics' ad department has been telling us, and it's finally here. Issue #0 doesn't really shine a light on how bright or good Brightest Day will end up being (it's way long on setup), but things don't too dim.

Rating: 8 /10
Last Updated: January 24, 2022 - 11:00