Comics / Spotlight / Progressive Panels
Brian Wood on X-Men
By Andy Frisk
March 20, 2012 - 19:11
I love Brian Wood's work. He has written some of the most influential and intelligent comic book series over the years.
DMZ
and
Northlanders
being just two examples of some of the brilliant books he's created and written from the ground up. Both ended recently, and Wood seems to be on the outs with DC Comics and their New 52 lineup. He's said as much over at
Newsarama
. While he's glad that Marvel Comics has found room for him within their universe of X-Titles, I'm actually a little apprehensive about Wood taking the reins on
X-Men
, a book that has been really, really well written of late by Victor Gischler. In fact, not too long ago I
named
X-Men
as perhaps THE X-book to be reading. Gischler has crafted some really fun, and thought provoking, story arcs recently including ones that teamed the X-Team spotlighted in the book with The Future Foundation and War Machine, and smartly dealt with what could have been a horrible, and trite, subject: Jubilee's new vampiric state. Gischler kept the X-Men integrated into the greater Marvel U while showcasing their strengths and weaknesses alongside the Marvel U's other great heroes. This seemed to make sense since
X-Men
has the potentiality of being the most high profile X-Book, perhaps next to Jason Aaron's
Wolverine and The X-Men
, simply because of name recognition. With Wood taking over though, again as he himself stated over at Newsarama, the cross overs with other Marvel U heroes is pretty much a thing of the past.
Gischler's X-Men
First off, and once again, I really love Brian Wood's work. He creates some very realistic and self-contained worlds and stories. The war torn and highly realistic world of
DMZ
reflected the gritty and sorrowful results of modern war and civil war.
Northlanders
was perhaps the only realistic and historically accurate comic book we will ever get about a real life group of people and their culture. His saga of the Vikings of the turn of the previous century was not only culturally and historically accurate, it was incredibly poignant in its exploration of how the evils of prejudice, greed, and petty ego that plague us today were in fully in effect, and incredibly similar in origin and motivation, to the evils of the prejudice, greed, and petty ego that plagued us over 1000 years ago. In both of these series, Wood was given free reign to create, and kill off, characters that were completely original within their historical and cultural settings and weren't tied to any continuity or needed to fit into a larger outside world. Even the many characters and different locales of
Northlanders
, even though they all took place, for the most part, in Northern Europe and within the same culture of people, were all self-contained and continuity free entities. Brilliant sagas like "The Cross and The Hammer" which dealt with the Norse occupation of Ireland, and "The Icelandic Trilogy", which dealt with the formation of Iceland, were packed with brilliant social and political commentary that demonstrated the similarities between situations and fanaticisms of over a thousand years ago and those of today, but had no connection to one another. They were completely self-sufficient and continuity free stories, besides their general geographical location. It is this type of story that Wood excels at. Unfortunately, the world of the X-Men isn't quite so isolated from the larger continuity of the universe that they inhabit…
X-Men
might become a book completely cut off from its surroundings. What makes the Marvel Universe work so well is its tight continuity. While some Marvel Comics readers might scoff at what I call the Marvel U's "tight continuity," most Marvel Comics readers will agree with me. It's much tighter than the DCnU's is right now. Especially since the whole Earth 2 mistake is about to be made. Isn't that what the whole point of the original
COIE
was about? Getting rid of the troublesome continuity that really just was so silly that it wasn't even worth keeping up with? The Marvel U, with all of its multiversal inclinations, was much more tight and continuous, and therefore more popular and easier to follow. Anyway, isn't putting a writer, who by his own admission admits that continuity isn't his thing, as dangerous a move on Marvel Comics' part as DC Comics' reintroduction of Earth 2 and its own Justice Society is? The X-Men, in comics, work best when they positively relate to the greater Marvel U in some way. Cutting them off from the greater Marvel U at large doesn't seem like a smart thing to do.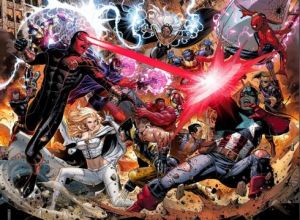 Here we go again...no it's not Civil War 2.
Or is it? With the next, and I suspect corporate mandated, mega summer crossover,
Avengers vs. X-Men
, upon us, Marvel Comics' heroes will be mixing it up a great deal over the next few months. Maybe having Wood pen some stories that will be a little more self-contained might be just what the X-Club doctors ordered. I don't know if this is really going to be the case, or if it will really be needed. I'd love to see Wood work on some more creator owned stuff like he did with DC Comics' Vertigo instead. Who knows, with Image Comics really putting out some quality stuff, and Hickman, a "Marvel Architect," doing side projects with them, Wood might find an opening there too to compliment his solid
Conan The Barbarian
work over at Dark Horse Comics. Either way, I'll give Wood's
X-Men
a chance, and hope that all that I'm worried about here is just that…needless worry.
Like music? So does Andy. Read his thoughts on it
here.
Last Updated: January 24, 2022 - 11:00