Comics / Comic Reviews / DC Comics
Review: Batman Beyond #20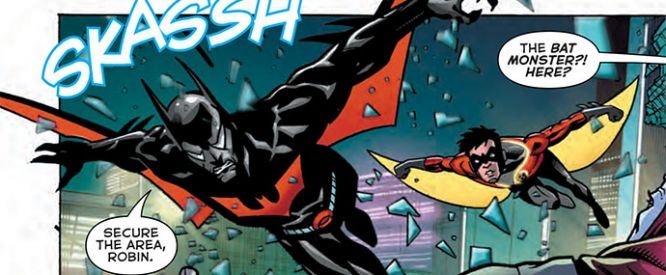 By Philip Schweier
May 23, 2018 - 05:48
Last issue, we were FINALLY introduced to Robin Beyond – Terry's younger brother Matt. In a moment of desperation, the aged Bruce Wayne pressed the boy into service as the new Boy Wonder to lend assistance to the future version of Batman.
Of course, this doesn't sit too well with Terry, who is correct in thinking that it needlessly puts Matt in harm's way. But having had a taste of adventure, there is no way to pry the Robin costume from Matt's hands. As Bruce explains, if they deny hi, he's just going to do it anyway. Better Matt have the benefit of their combined experience and training. It's a bitter pill for Terry to swallow.
This issue features the artwork of Marco Castiello and Mark Morales, which is not as stylized as that of the previous team of Phil Hester and Ande Parks, but that's okay. They have a straightforward illustrative style that works quite well in the future world of Batman Beyond.
This issue also launches a new story arc, one pitting Batman against the future Jokerz, who all seem in fear of a mysterious Bat-monster (The Dark Knight Returns Beyond?). I expect it to be a straightforward adventure, with less character development or expansion of the franchise. If I'm right, that's okay; I could use the rest from epic stories. If I'm wrong, well, that's okay too.
Rating: 8/10
Last Updated: February 5, 2023 - 09:06