Comics / Comic Reviews / DC Comics
Review: Batman Beyond #13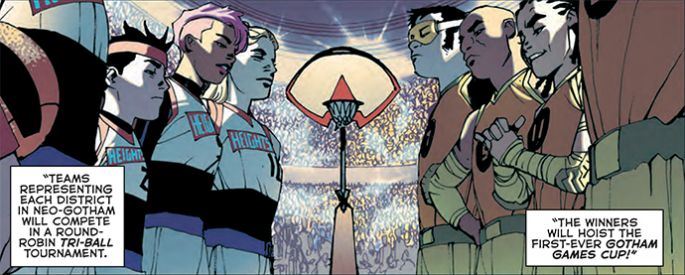 By Philip Schweier
October 25, 2017 - 04:17
Another done-in-one, this time by frequent Batman Beyond artist Bernard Chang. One benefit of the writer/artist dynamic is that the artist can somewhat re-write on the fly, and it streamlines the art direction overall. This has enabled the story to be told in a unique fashion.
The primary action takes place along the upper half of the pages, as Batman engages in battle against a series of individual opponents as he traverses New Gotham to reach the manual shut-offs for the city's aerial defense systems. The lower half of the pages is further divided, with separate action from the Gotham Games – a more benign version of the Hunger Games – and the back stories of Batman's individual opponents.
The story furthers the overall mythos of the future world of Batman Beyond. It has become it's own separate entity from the general Batman lore, with it's own supporting characters, villains and general continuity. By operating outside of the main DCU, it plays by its own rules, and I believe that opens the door wide to greater storytelling.
Chang's artwork is spot on, as he is a familiar name in the title. He knows the character, the setting and could be a welcome addition as writer of the series, should ongoing Dan Jurgens ever choose to step down permanently.
Rating: 9/10
Last Updated: February 5, 2023 - 09:06