Comics / Comic Reviews / DC Comics
Batman #700
By Hervé St-Louis
July 25, 2010 - 13:19
Professor Nichols has created a time machine that allows its users to change the past. In the past, the Joke and several other villains try to undo the Batman. In the present, Dick Grayson as Batman is after the Joker's joke book and try to solve the murder of Nichols. In the future, Damian Wayne, witnesses the destruction of the Joker's joke book by a time travelling Nichols. What does it all mean?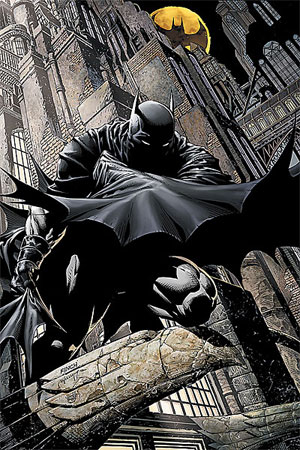 I supposed there was no way the 700th issue of Batman would be dedicated to Dick Grayson as Batman alone. We all know his time as Batman is short and almost over. He can't possibly have the spotlight to himself for such a landmark issue. A landmark issue it is not. Morrison blasted away one of his plots that are all over the place. I wonder sometimes if he was switched at birth with the joker. I think I grow tired of DC Comics telling us that Morrison is such a great writer when he can't tell a story simply and for all readers. He has to put levels that are not self discoverable. You have to work your brain. All it makes is for a difficult story to tell and nothing really memorable. A similar story was created years ago in the Flash Special #1. Apart from being easier to read, it was the same story. A major threat threatens the flag bearer of his generation until the last guy in the past defeats the evil once and for all.
What have we learned at the end of this story? Not much. The art was all over the place. Some was good, some was bad. Overall it just reinforced the craziness of this story that might as well have been credited to the Joker.
Rating: 6.5 /10
Last Updated: January 24, 2022 - 11:00