Comics / Comic Reviews / DC Comics
Batman #32
By Hervé St-Louis
Jan 23, 2018 - 12:55
Batman confronts both the Riddler and the Joker. The Riddler reveals his nefarious plan to create Kite Man so that he may help him make the Joker laugh again. It wasn't about Batman. It was about the Joker he reveals. But Batman has other plans and wants to end the Riddler's life. Will the Joker let him do it?
This episode was the big revelation that Batman had tried to kill once and had to come clean if he were to marry Catwoman. While in the crazy world they live in, Batman and Catwoman encounter death everyday and may even have provoked it, it was still fun to see that Batman is a classic crusader and has morals. Tom King is doing his best here to recreate a new Batman that is no longer the Dark Knight and more than Scott Snyder's caped crusader. I do not know how to refer to this Bat but it is certainly an intriguing read.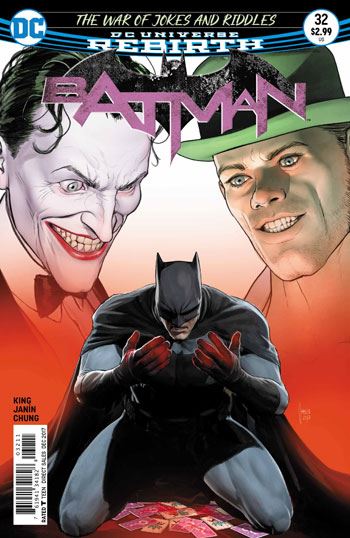 King is making Batman more psychological and dare I say philosophical than ever. This issue however, had more action than most. Finally! The Riddler has never been written so well and I am glad that he is now a villain on the level of the Joker. What King has done here is similar to what Geoff Johns did for Captain Cold. He has turned a joke into a riddle and first-class character. This adventure was a great finale the War of Jokes and Riddles although some chapters were not as strong as others.
Mikel Janín deserves the other half of the accolades mostly for his rendition of the Riddler who finally has a distinctive look. He looks Irish! I also like the Joker's sneer. The action in this issue was telegraphed in a good way. These were fine pages where Janín skewered the frames to show the flow of the movements and the fight. The obligatory "pows" and other sound effects were there to remind us that this is a Batman comic after all. It should not take itself so seriously!
Rating: 10 /10
Support this writer on Patreon
Last Updated: Jun 26, 2018 - 9:28