Comics / Comic Reviews / Marvel Comics
Bad Night Starts New Criminal Story Arc
By Henry Chamberlain
August 26, 2008 - 11:54
"Bad Night" begins the next story arc in the Brubaker/Phillips series,
Criminal
from the
Marvel Comics Icon
line. The focus this time is Jacob, the cartoonist of his own noir comic, "Frank Kafka, Private Eye." So, you've got it all here: a stand-in for the creators of
Criminal
and a comic within a comic. And, of course, that smooth prose like this example: "The city felt different to me when I got out. And even now, it still does. They're the same streets I've known my whole life...the same noise, the same junkies and bums and lunatics...but it's like I see them from a different perspective. One that I'm not sure I understand...an invisible view. From the other side of the vanishing points."
What happens when a guy who creates crime comics is living the life of a crime comic? That's exactly what happens when Jacob can't sleep and decides to go get some coffee at his local greasy spoon. Little does he know that he's just stepped into the last place he should be that night.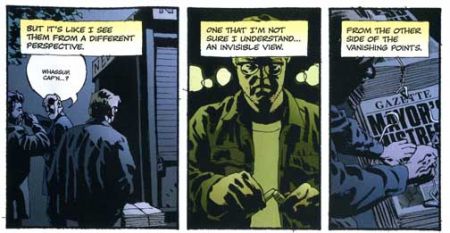 From the other side of the vanishing points.
The character of Jacob is finely etched: a middle-aged hipster, long sideburns, slouched and ready for whatever happens next. You wince when he gets caught up in a fight between a thug and his girlfriend in the diner. You instantly know that he's over his head. When, later on, he finds himself in bed with the same girl, you really know he's over his head. And so the ingredients emerge for another great crime story.
Ed Brubaker points out in the extras pages to this series that it's word of mouth that plays such an important role in keeping a new title alive and thriving in the comic book shops.
Eisner
awards definitely help to acknowledge the quality but your voice, as the reader and buyer, is the final word. So, if you've already discovered the quality behind
Criminal
and want to make sure it keeps its place on the shelves, make sure to let your retailer know!
As a final note: for a series with its fair share of easter eggs, take a closer look at the cover of this latest issue. There's a movie marquee lost among the glare and smoke. It reads: "Sleeper." That's another Brubaker book to check out. If you haven't heard of it, talk to your retailer about that too. Everyone will be up to speed when the movie, starring Tom Cruise, comes out in 2010.
Last Updated: May 19, 2020 - 12:25