Comics / Comic Reviews / Marvel Comics
Astonishing X-Men #25
By Zak Edwards
July 6, 2008 - 12:48
Joss Whedon's run which will surely pass the test of time came to an end last month. To follow up, Marvel enlisted a legend in his own right, Warren Ellis (Transmetropolitan, Fell, N.E.X.T.W.A.V.E, the list goes on and on), and Italian penciller Simone Bianchi. Together, this team has a serious name to live up to, and they do.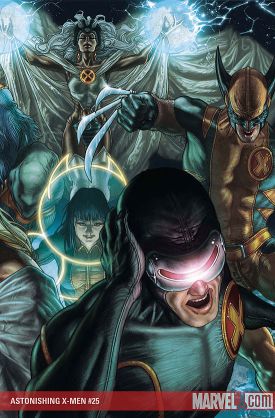 Yes, Astonishing X-Men is different. It's certainly longer with Ellis filling every page with plenty of speech bubbles. This is a talking comic with barely any action, but dialog was a strength of the Whedon/Cassidy run. In fact, the only real use of powers in this issue would be Wolverine cutting open a dead guy to retrieve a sample for Beast. The dialog is witty, wonderfully dry in places, something only a British writer could handle. Ellis also recognizes the former run in clever ways, quips about coffee and uniforms work as a nod to the past, but are also used to look towards the future. The Astonishing X-Men are now more private eye then ever before, acting as consultants to the San Francisco Police Department. The characters work well with each other as Ellis retains the great characterization of the individual members. The story is a set up for what comes with the series reestablishing itself, much of this issue is the dialog between characters to help those just coming on but also allowing Ellis to lay down what he will be doing. While they share similar elements, this is not Whedon, it's Ellis. Ellis also sets up some great team dynamics. Watching Storm and Emma Frost, the reformed White Queen, will be interesting, as will the rookie Armor and Wolverine relationship. Beast as the mentor for the character Whedon did the most favours for, Cyclops, is working well already. This series will remain one about the team fighting itself more then any outside threat, which will keep it very entertaining.
Simone Bianchi likes things dark and washed out, colour-wise. A tip: read this comic book in a well lit area or else you might not see everything. But the second time I read this comic book, I began to really enjoy the art. It's expressive and realistic and not over-sexualized. I believe this will work very well for the series, combining a focus on inter-team dynamics with an artist who can convey emotion and expression very well. My only complaint is the numerous dramatic close-ups. With the large amount of dialog, things become very cramped. It feels like too much of the art is covered up. But Bianchi's art is perfect. This series should be entertaining to say the least.
8/10 Great characterization and dialog combined with expressive and unique art.
Last Updated: January 24, 2022 - 11:00