Art Spiegelman Talks Comics Politics In Toronto
By Eli Green
April 4, 2008 - 08:00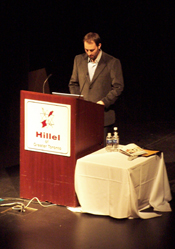 Hillel of Greater Toronto's Dan Abramson introduces Spiegelman
The University of Toronto, Jewish university campus group
Hillel of Greater Toronto
,
NOW Magazine
, the Latner Jewish Library in cooperation with the Anti-Racism and Cultural Diversity Office University of Toronto, the Lonsdale Annex Foundation, National Jewish Campus Life (NJCL), Osler, Hoskin & Harcourt LLP and the
UJA Federation of Greater Toronto
played host last night to Pulitzer Prize winning comic book writer/artist Art Spiegelman. The groups invited Spiegelman to give a lecture entitled "Comix 101: Forbidden Images and the Art of Outrage", on freedom of speech, open discourse, comic book history and much more.
His lecture, however, turned out to be much more than just an overview of comic book history and how images evoke emotions. Spiegelman gave his audience a very honest, and often humorous, look into his life and his career while introducing them to the concepts of image theory and analysis. In the span of approximately two hours, Spiegelman spoke about how he came to be interested in comic books, showed a large portion of his own work and works that influenced him and, most importantly, explained why comics and comic books have such an effect on people.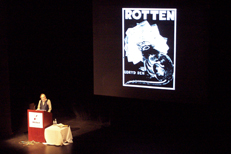 Spiegelman shows Nazi propaganda depicting a Jew as a rat.
Much of his lectured gravitated towards a discussion of the cartoon depictions of Islamic prophet Muhammad, which were published in the Danish newspaper Jyllands-Posten in September of 2005, even giving his own breakdown of how controversial he considered those images to be, based on his own rating system, which used bombs instead of stars. These images were not the only controversial ones he spoke about though, as he showed a number of propaganda cartoons from World War II, some of which were Anti-Semitic, while others were actually from America, depicting then-American enemies as animals. This, of course, was an important part of Spiegelman's lecture, where he discussed how these types of propaganda often depicted their victims as animals in order to dehumanize them, making it easier for the intended viewers of those cartoons to hate the people on the page.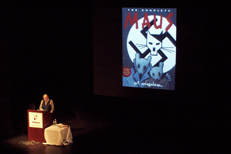 He went on to discuss how this dehumanization of people in propaganda cartoons, and the anthropomorphizing of characters like Mickey Mouse and Donald Duck eventually led him to his decision for how to depict his characters in his book
Maus
.
Propaganda cartoons aren't the only type of images that could be considered controversial though, and Spiegelman took the time to show off a large portion of covers from his time at The New Yorker to demonstrate this. Though he showed a number of covers, three particular ones stood out. The first of these tree covers was the depiction of a white New York City police officer pointing his gun at a shooting range, with black silhouette targets. This cover, which was inspired by the events surrounding the killing of a black immigrant to America, who was shot at 41 times by New York City police officers, was called "disgusting" by then-Mayor of New York City, Rudy Giuliani. It also brought the issue of overzealous police officers back into the light at a time when the issue was only being discussed in black communities.
The second cover came some time after the Sept. 11
th
attacks, and depicted a mushroom cloud in New York City during a celebration in the city, to depict American fears since the time of the attacks. The New Yorker editors said they would not be able to use that cover, so Spiegelman changed it to include a man starting from a dream, and it was accepted. The third cover was published in the February 15
th
, 1993 edition of the New Yorker, in the aftermath of the Crown Heights riots section of Brooklyn, between Chasidic Jews and African Americans from the area. The cover depicts a Chasidic man and an African American woman passionately kissing each other. Spiegelman noted that not soon after the publication of that issue, he received a letter from a black preacher saying it was just another case of white people oppressing black people, to which he responded that it would have been confusing for people if the image showed a black man kissing a white woman wearing a head covering, as most people wouldn't get that she was Chasidic, or, worse, that image could be construed as the depiction of a black man as a sexual predator.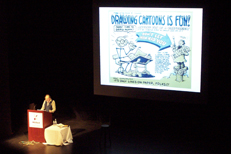 Spiegelman also took some time to mention how controversial comics have landed some creators in hot water, sometimes leading to their imprisonment or deaths, and various attempts made by politicians to censor the way cartoonists depict them in their comics. Closer to the end of his lecture, Spiegelman spoke about the creation of the Comics Code Authority, Horror comics and Dr. Fredric Wertham's scapegoating of comic books as the "cause" of juvenile delinquency. He ended by using his final minute to show how much he loves MAD Magazine and how it has influenced him.
Last Updated: March 20, 2022 - 17:45