Comics / Comic Reviews / Marvel Comics
Annihilators #2 Review
By Colin Andersen
April 7, 2011 - 21:48
Now this is a fun comic book, even if it's not perfect. Ever since I was little and used to read all of my older brother's comics, I have loved the cosmic side of Marvel Comics. There was so much variety and so many characters that there just had to be someone in there for everyone to love. Because of this, I grew up a fan on series such as Infinity Gauntlet, Warlock and the Infinity Watch, and more. Unfortunately, Marvel went through an extended period where it produced little cosmic material, but they looked to remedy this with their Annihilation miniseries from 2006. Ever since Annihilation, there has been some sort of Cosmic Marvel book on the stands, usually helmed by Dan Abnett and Andy Lanning. As much as I've enjoyed these series, none of them quite captured the same magic the cosmic stories of old that I loved. Luckily for me, Annihilators seems to be remedying that.
Annihilators #2
kicks off where the last issue left off, with the mega-powerful team of the Annihilators trying to stop Doctor Dredd from unleashing the evil of the Dire Wraiths onto the home world of the Galadorians (home planet of the no-longer-Marvel-owned Rom the Spaceknight). Seeing these galactic heavy weights rush into battle brought such a surge of child-like joy to me that I was shocked. I honestly was not expecting to enjoy this series as much as I do; there is something here for anyone that has ever enjoyed Marvel's cosmic side and it shows powerful characters acting powerful. Ronan the Accuser gets a particularly good moment this issue, but every character gets a least a little chance to shine. My only worry is that the story seems to be moving a bit too fast. Perhaps DnA (Abnett and Lanning's nickname when they write together) just have too much they are trying to tell in the unfortunately small number of issues they have, but
Annihilators
could stand to be a little better paced.
Based on these first two issues, I absolutely hope that the Annihilators are eventually given more than four issues to work in. There is just so much promise to this premise; too often comic books are afraid to really gather their heavy hitters together onto a team for fear that they would be too unstoppable but DnA show that this concept can work and they nail each of the members of the team. I love the way these characters interact with one another because it is just how I imagine they would talk to each other. These are big personalities and it shows, but when it comes down to business they get things done. I'm particularly enjoying DnA's take on Ronan who is finally getting to become the character he always had the capacity to be. If I had one problem with the team, it would the unsuredness of its pseudo-leader Quasar. This is very powerful character who has been around the block (of life) more than once and there is no reason for him to be belittling himself the way he is. Hopefully the addition of the new character Ikon will help lift his confidence some. Of equal quality is the backup feature starring Rocket Raccoon and Groot. It is very obvious that Abnett and Lanning had insane amounts of fun in writing this frenetic story; it's just too bad it didn't get to have the life as its own book that it was originally supposed to have.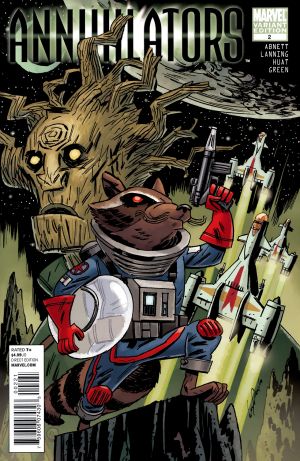 I wish I could offer the same praise to the art team of
Annihilators
. Something about Tan Eng Huat's artwork just looks…off. While his level of detail can be impressive and his actions can be truly awesome, his character designs are painfully inconsistent. Characters end up with elongated heads or strange facial features that took me out of the story more than once. Oddly enough, Beta Ray Bill suffers from this the least while the humanoid can be downright ugly in some panels. Huat has talent, but it all just looks rushed. Maybe if he was given another week to work, the book would hold up better. Luckily Timothy Green II's work on the Rocket Raccoon story works much better. It is delightfully cartoony and simply perfect for the story being told. I never thought I'd say this, but Green easily draws the single best upright-soldier-raccoon-with-human-intellect that I have ever seen.
If you have never read a cosmic Marvel series then, well, this might not be the best place for you to start. There are a lot of characters here and many of them likely won't be familiar to more casual readers. However, if you've been reading any of Marvel's old cosmic stories, Annihilators is a must read and new readers could do worse in terms of introductions to these characters. At $4.99, even with a full size backup, this is a pricey book so, unless you're a diehard fan, maybe wait for the trade on this one.

Rating: 7 /10
Last Updated: January 24, 2022 - 11:00