Comics / Comic Reviews / Marvel Comics
Amazing Spider-man #642
By Hervé St-Louis
October 3, 2010 - 12:07
Peter Parker is broke and has to sell off his best cameras to make a living, now that no one will hire him again after he edited some pictures unethically for a newspaper. But he has a date with Carlie and his roommate has been selling all his clothes to make up for the late rent. Worse, than that is the prize put on Menace's child with Norman Osborne who is about to be born. With all the villains in the city after the baby, can even Spider-man stop them?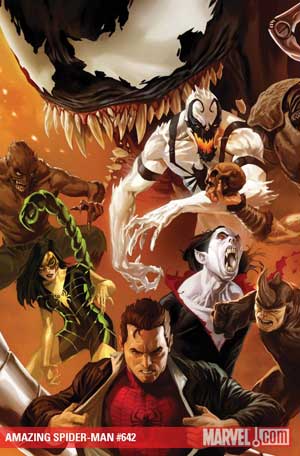 I have been late in my Spider-man readings. It happens. So I decided to skip a bunch of issues and start fresh with this storyline. I'm glad I did. I'm not sure if I would have liked the melodramatic Mary Jane stuff. What I did like was the way Peter Parker's life is again in shambles. It's so bad that he doesn't even have money to buy spider web fluid ingredients! I love this type of stories where Spider-man's alter ego is down on his luck. I also like the follow up to Menace and seeing what she was up to since we last saw her. She is the creepiest villainess ever with that pregnancy. It's that bad. But as creepy as the character is, it was fun to read this issue which combined all the classic elements that makes a Spider-man story great.
Azaceta is a great artists, but not necessarily the best choice for Spider-man. The editors of the book have been favouring artists like him over the traditional action-oriented ones for a while now. Perhaps they are trying to give Spider-man a unique look and feel. Well, in a sense it's working. I'm just concerned about how Azaceta makes Peter Parker look so fat!
Rating: 9 /10
Last Updated: August 31, 2023 - 08:12