A Shakespearean Thor
By Andy Frisk
February 21, 2009 - 23:52
If you haven't been reading Thor you really should. From story to art this series is an example of some of the high quality superhero books being produced currently. Oliver Copiel's renderings of Thor and his fellow Asgardians is nothing short of an artistic masterpiece with cinematic flair. One can picture the outfits of various characters being story board designs for one of the Lord of The Rings films' costumes. We're talking detailed realism here. Long gone are the Kirbyesque science fiction inspired outfits that were the hallmark of previous Thor series. Chain mail, leather belts and boots, furs, braided beards and battle scarred helmets are abundant. Even the mighty Mjolnir, Thor's enchanted hammer, looks rough hewn. As for the physical appearances of the Asgardians themselves, the men are hearty and muscular and the women voluptuous and beautiful. All around we get Asgardians that wouldn't look horribly out of place in an historic comic book take on the Viking Age like Brian Wood's Northlanders from DC's Vertigo line or on the big screen in a well made motion picture version with production, set and costume design reminiscent of the aforementioned Lord of The Rings films.

Mentioning film, with Kenneth Branagh, the esteemed actor/director who gave us brilliant film interpretations of several of Shakespeare's plays such as Henry V and Hamlet, confirmed to direct Thor's debut on screen, could all of this realism in the rendering of the Asgardians be the groundwork being laid for what hopefully will be a Shakespearean take on the denizens of Asgard by Branagh? I for one surely hope so. Imagine a trilogy of Thor films dialoging his exploits in a Middle-Earth-like Asgard, his eventual trip to Earth as Doctor Donald Blake, his long standing alter ego, and finally a climaxing battle between Thor and his evil brother Loki while the wolves of Ragnarok, the Asgardian doomsday, howl at the gates? Wow. Once again though we can only hope.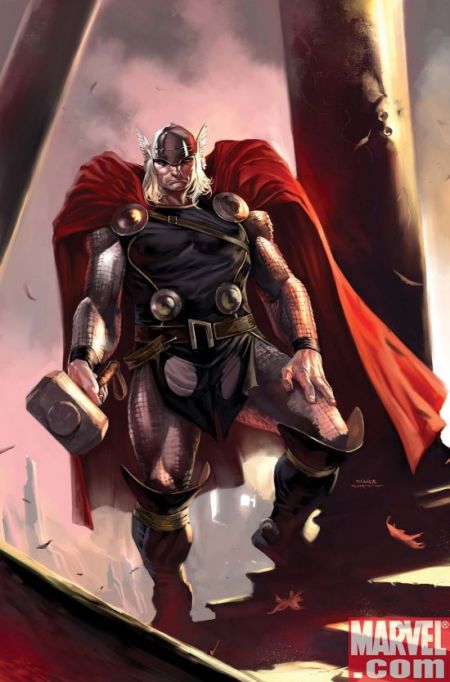 Thor "Don't call me goldilocks" Odinson
Before we get too carried away and drift off into dreams of a Shakespearean rendered Thor motion picture or pictures, let us take a look at the Shakespearean plots rolling through Thor's newest run. We have all the drama of one of The Bard's tragedies including: father/son issues like those chronicled between Odin and his father Bor as well as Odin and his son Thor (which create indecision and sudden action not unlike the father/son issues in Hamlet do); we have the gender bending Loki who actually switches gender to be more easily deceiving of his fellow Asgardian brethren (much like Portia in Merchant of Venice disguises herself like a man to argue before the Venetian court); and tragic falls from grace as Thor unwittingly suffers at the end of issue 600 (much like King Lear's blindness to his daughter's love begins his downward spiral). In Thor's case, his unwitting blindness to Loki's machinations is based upon his willingness to believe Loki has turned a new leaf. Or is it? Perhaps, even though the eternal cycle of Ragnarok has been broken, as chronicled at the end of Thor's previous series, he is forever doomed to suffer from his own tragic Shakespearean flaw, his tendency towards arrogance, as yet again he overlooks Loki as a real threat and ends up banished from Asgard for it this time.
Yes, this current Thor series has great art and storytelling with a Shakespearean bent and we can only hope that as Branagh prepares to deliver his vision of Thor's world he takes a look at what's going on in Thor's current monthly adventures and brings us a film, hopefully a series of films, of the quality of his renditions of Shakespeare's plays. Until then, we only have to wait until next month for more of Thor and his sisters' and brothers' stories in Shakespearean fashion if not in Shakespearean English.
Last Updated: September 26, 2021 - 23:48