Comics / Comic Reviews / More Comics
Zoo Force: BBQ
By Leroy Douresseaux
April 27, 2007 - 01:13
ZOO FORCE: BBQ
CANDLE LIGHT PRESS
WRITER: John Ira Thomas
ARTIST: Jeremy Smith
ISBN: 0-9766053-3-3;
6" x 9" paperback, B&W, $13.95
John Ira Thomas and Jeremy Smith, part of the Iowa-based graphic novel publisher, Candle Light Press, are prolific graphic novelists. They've just released Zoo Force: BBQ, the third novel in the Zoo Force line. After reading the first volume, Zoo Force: Dear Eniko, I compared it to the mid to late 80's Giffen/DeMatteis/Maguire Justice League series. The second book, Zoo Force: Bean and Nothingness, was a bit more introspective. BBQ blends elements of both of those, and may actually be more thoughtful and far funnier than the early volumes.
The costumed heroes of Candle Light Press books call fictional Freedom City, Texas their base of operations. While I compared previous CLP books to Moore & Gibbons Watchmen and Bendis and Oeming's Powers, CLP titles don't present superheroes in the real world the way most creators have done post-Watchmen. I found a quote in a recent Stephen King Entertainment Weekly column that comes close to how I want to describe them:
"It [rehab] also took away the idea that because I'd been born with a little talent and parlayed it into a fair amount of cash, I was different somehow." - Stephen King, Entertainment Weekly #931/932; April 27/May 4, 2007 (p. 148)
The super powers of Zoo Force (called Enforcers) are really regular guys with a little talent or maybe even a little extraordinary talent. Strip away the special talents, however, and you have humans dealing, more or less, with the same things us regular joes do.
For instance, in the opening tale, Zoo Force member, Ding (his cowl is a bell), is guilt-riddled because his dear friends are about to discover his most shocking secret – a scandalous shame that has been eating at him for so long. Now, it's coming out of the closet. In the end, it's really no big deal (in spite of Ding's shame), but it takes a heart-to-heart talk with a former Enforcer to put things in perspective. This is the kind of thoughtful, real world drama that CLP does so well that makes their men of mystery so different from what everyone else is doing.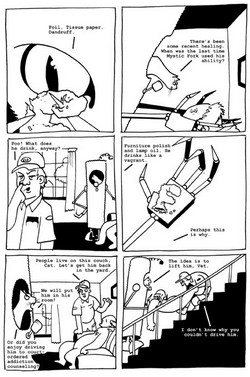 Capt. Cat in action
For all the gentle drama that opens Zoo Force: BBQ, comedy is the main course, thanks to Captain Cat, a member of Zoo Force's comedic opposite, Not Zoo Force. The Captain is an actual cat born with the brain and intellect of a genius (think Marvel's Mr. Fantastic combined with DC's Gorilla Grodd). Cat's super-suit is a cyborg made of an upright log upholstered on the outside with a rug, hollowed out to allow Cat a cockpit, and adorned with mechanical wheel/feet and various robotic appendages.
Cat takes on his arch-rival – his very own teammate, Mr. Vet, a regular guy-type who can control animals, especially household pets. The Vet is always trying to use his mind control powers on Cat. As much as I enjoyed BBQ's opening tale, I couldn't get enough of Cat and The Vet's thoroughly funny Tom and Jerry/Bugs and Daffy routine.
Curious about Zoo Force? Think of it being alongside "The Boondocks" or "The Venture Bros." in Cartoon Network's Adult Swim lineup, and you have the comic book comedy for the adult sensibility.
Visit candlelightpress.com for information on buying the book from your local comic shop or bookstore (Bricks & Mortar or online).
Last Updated: June 23, 2021 - 00:45