Vampire Knight: Volume 6
By Leroy Douresseaux
March 5, 2009 - 11:21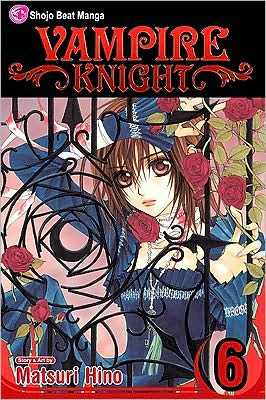 Vampire Knight 6 cover image is courtesy of barnesandnoble.com.
Rated "T+" for "Older Teen"
At the private boarding school, Cross Academy, there are two classes – the Day Class and the Night Class. At twilight, as the students of the Day Class return to their dorms, they cross paths with the Night Class on its way to school. The Day Class doesn't know Cross Academy's dark secret. The students of the Night Class are vampires! Yuki Cross, the adopted daughter of Headmaster Cross, and Zero Kiryu, a human suffering the curse of the vampire, are Guardians of the school, patrolling the hallways and school grounds to protect the Day Class students from the vampires.
In Vampire Knight, Vol. 6, Yuki finds herself drawn ever closer into the embrace of the pureblood vampire, Kaname Kuran, who once saved her life. Yuki surreptitiously observes a vampire soireé – an exclusive vampire party where the parents of Night Class student Hanabusa Aido introduce their daughter to Kaname. They are only one of many Night Class parents who desire a marital union with a pureblood. Yuki also begins to delve into own her past to discover the mystery of her parents' past and to learn why they abandoned her before they were brutally murdered.
THE LOWDOWN: If some mad scientist/spiritual medium were able to combine the essences of filmmaker Tim Burton, writer Mary Shelley (Frankenstein), and manga-ka Arina Tanemura, he might come up with a creature that could create something like Vampire Knight. Creator Matsuri Hino (Captive Hearts) has fashioned something sickly sweet and macabre – like cotton candy spun in an open casket (with moldy corpse still inside) and colored like blood, and I like it. Vampire Knight is an elegant macabre – dark, alluring, and hiding a razor-sharp implement. Sometimes, the narrative slows to a crawl, but for the most part, it calls to the reader's hotter blood.
POSSIBLE AUDIENCE: Readers who enjoy stories of teens and vampires and of vampire teens will love them some Vampire Knight.
B+
Last Updated: June 23, 2021 - 00:45