Comics / Manga / Yaoi Manga
Unsophisticated and Rude (Yaoi)
By Leroy Douresseaux
September 13, 2009 - 20:08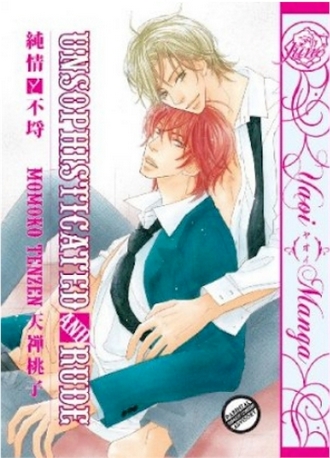 Unsophisticated and Rude cover image is courtesy of Anime Castle Books.
Drama/Romance; Rated "18+ Mature"
Unsophisticated and Rude is a collection of yaoi short stories from creator Momoko Tenzen (Manhattan Love Story), and this collection actually lives up to its title. In these stories, five boys experience the tumult of romantic love just like girls in teen romance. The objects of their desire use sneaky flirtation, passionate confessions, and blurted declarations of love to get the ones they love to love them back. Oh, my! But sometimes it backfires on them!
In the title story, "Unsophisticated and Rude," Hiroto Nakajima is in love with his longtime best friend, Satoshi Uchida. However, Satoshi has a serious crush on popular upperclassmen and star basketball player, Nao Miyazawa. Hiroto wants to be happy that his friend has landed the handsome Nao, but what is this nagging feeling that seems worry Hiroto's thoughts and tug insistently at his heartstrings? Is this about Hiroto's jealousy over Satsohi dating another man, or is this about Nao the other man.
THE LOWDOWN: Momoko Tenzen's beau-hunks are indeed unsophisticated and rude. They may know what they want, but they aren't sophisticated lovers. Thus, all their amorous moves are fumbling at best and rude at worst. On the other hand, it is this lack of polish in their lovemaking that makes Unsophisticated and Rude such a fun read. Without the conflict, the misunderstandings, the naïve attitudes, etc., there wouldn't be the kind of delicious drama that is plentiful in these stories.
Tenzen's clean drawing style, with her sharply defined figure rendering, is perfect for these stories about young men who are still maturing both physically and emotionally. The toning gives the art a tactile feel by visually giving clothing texture and the backgrounds solidity. The visual storytelling is excellent, and while these stories may be familiar, it's all about the execution. How Tenzen tells these stories is what makes all five stories in Unsophisticated and Rude yaoi romance comfort food.
POSSIBLE AUDIENCE: Readers who want to enjoy the bliss of love finally arrived will enjoy Unsophisticated and Rude.
A-
Last Updated: June 23, 2021 - 00:45