Fruits Basket Reaches Milestone
By Leroy Douresseaux
December 7, 2006 - 06:56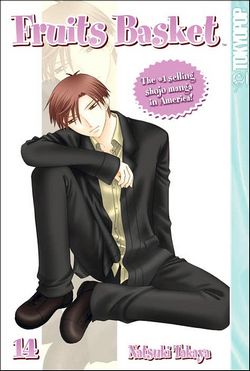 The cover of Fruits Basket Vol. 14
Los Angeles, CA (December 6, 2006) - TOKYOPOP, which builds itself as the leader of a "Global Manga Revolution," announced that the company's manga series, Fruits Basket, created by Natsuki Takaya, has reached two million books in print with the recent release of Fruits Basket Volume 15.
The company describes the series as the funny and touching story of Tohru Honda, an orphaned high school freshman girl who is rescued from homelessness by an enigmatic family with a big secret. TOKYOPOP says that Fruits Basket is one of the best selling and most popular manga series throughout North America, regularly rising to the top of both Graphic Novel and Overall General Fiction categories on noted literary sales rosters, including BookScan and the USA Today Top 150.
Fruits Basket (by Natsuki Takaya - winner of the ultra-prestigious Kodansha Manga Award) began its life in the pages of Hana to Yume magazine, the manga anthology from Japanese publisher Hakusensha. In 2001, the series became a huge fan-favorite in Japan, jumping to the top of the manga charts. Hakusensha and TV Tokyo then teamed up to turn Fruits Basket into a 26-episode anime series, and TOKYOPOP released the first volume of Fruits Basket in North America in 2004.
When TIME Magazine asked Ms. Takaya her feelings on having the top-selling manga in the U.S., she responded, "That definitely flatters and pleases me. Thank you very much. As for a reason, I can't clearly distinguish one, but if people read Fruits Basket and think 'I like this,' then that alone is enough to bring me joy."
According to TOKYOPOP Publisher Mike Kiley, "Fruits Basket is an extraordinary manga series that crosses all age boundaries and appeals to both girls and boys. We are proud to have played some small part in bringing Takaya-sensei's delightful story to English-speaking audiences."
Thanks to barnesandnoble.com for the images.
Last Updated: April 9, 2021 - 22:22