Comics / Manga / Yaoi Manga
The Loudest Whisper: Uwasa No Futari (Yaoi)
By Leroy Douresseaux
July 14, 2009 - 12:58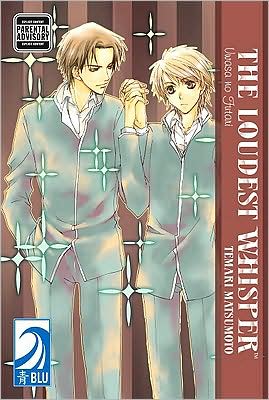 The Loudest Whipser cover image is courtesy of barnesandnoble.com.
Rated "M" for "Mature"
The Loudest Whisper: Uwasa No Futari is a yaoi manga collection from creator Temari Matsumoto (Just My Luck). Although this book also contains a few short pieces, The Loudest Whisper is actually a serialized yaoi drama, of which this book collects the first three chapters.
The Loudest Whisper focuses on high school friends, Hiroshi Akabane and Seichi Aoyama. Akabane, from whose point of view the story is told, is the Student Council Vice-President, and he's in love with Seichi, the President. There are plenty of rumors around school that the duo is actually a couple. In a peculiar move, the two decide to give the other students something to talk about and date – as a joke, but what happens when the prank becomes passion?
THE LOWDOWN: The Loudest Whisper storyline is not bad; it's just a blah story about two guys who become romantically involved and eventually have sex. It never builds any anticipation of something exciting happening, although there is a funny sequence involving "accidental" erections. Creator Temari Matsumoto seems to be holding the real dramatic conflict for later chapters. In fact, the readers get a taste of that conflict in the character, Roppongi, a rival for Hiroshi's affections, who will apparently interfere more in the Hiroshi/Seichi affair in later chapters.
It is the four short stories in this book that are the most fun to read. They're basically standard yaoi seme/uke (top/bottom) tales, but they're oh-so-fun to read. These stories are built around the undersized, girlish, uke pretty boy who longs to be loved by his tall, handsome, and strong seme pal.
First, there is the "Cure for the Common Crush," about a sales clerk at a pharmacy who has a crush on a tall, dark, and handsome customer; a mistake at the counter leads to a desperate need for mutual release and relief. In "Heart-Shaped Lunchbox," two friends learn to cook in the kitchen… together. The two-part "First Stroll" and "First Help" is about Narumi, a clumsy young master of a wealthy household, and Sakurai, the tall, dark, handsome, and stern head of the household bodyguards. Narumi is in love with Sakurai, but Narumi believes that Sakurai can't see past his clumsiness.
THE LOWDOWN: Readers who want well done stereotypical seme/uke tales will like The Loudest Whisper: Uwasa No Futari, even though the main feature isn't yet ready for prime time.
B+
Last Updated: June 23, 2021 - 00:45