Comics / Manga / Yaoi Manga
Jaryu Dokuro's Sugar Milk (Yaoi)
By Leroy Douresseaux
July 4, 2008 - 14:01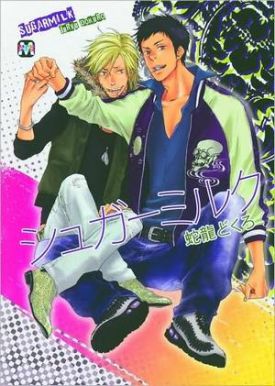 Thanks to barnesnandnoble.com for this cover image.
Rated "M" for "Mature Audiences 18+"
Could Jaryu Dokuro be a star to watch in yaoi manga (comics featuring explicit sex between males)? Sugar Milk, a collection of boys' love ("BL") short stories, suggests that Dokuro is.
The short stories: "Milk," "Sugar," and "New Years Eve," are the centerpiece of this eight story collection. This trio of tales depicts snap shots of an on-again/off-again relationship between former short order cook, Taichi Minamori, and his gay associate, the dark-haired charmer, Sho Tanaka. The rest of the stories also offer snap shots of young men in love: a teacher pines for a devilishly handsome student who has to transfer to another school, one that can test his intellect, in the tale, "Fifteen." A photographer travels the country with his muse, a beautiful vagrant he rescued from homelessness in "Waiting for Winter."
Don't expect much in the way of substantial drama from these thin tales, which really seem like vignettes, nor should the reader expect much in the way of the kind of explicit sex found in yaoi manga. What stands out about Jaryu Dokuro is his marvelous cartooning of the human figure – in clothing, reclining, and even movement. There's some excellent figure posing in the story, "What's Your Name," that features one of the main characters playing basketball. It's an impressive displaying of drawing the human body in motion.
B-
Last Updated: June 23, 2021 - 00:45