Comics / Manga / Yaoi Manga
Shy Intentions (Yaoi)
By Leroy Douresseaux
November 8, 2008 - 15:20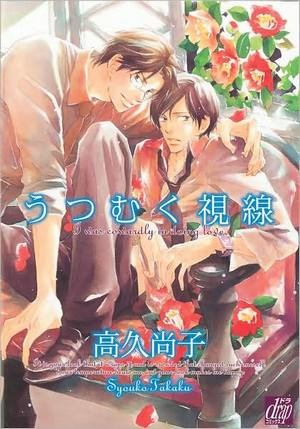 June's editon keeps the lovely cover of the Japanese edition, but replaces the Japanese copy.
Rated "M" for "Mature Audiences 18+"
In Shy Intentions, a yaoi manga by Syouko Takaku, two young men meet at the hospital while visiting gravely sick relatives.
Yoshiyuki Shirotsubaki is an amiable art teacher who keeps to himself. Kaoru Niiya is a savvy furniture designer; sly and jovial, he is more open than Yoshiyuki. Through the pain of grief and guilt, they meet become and lovers, but will the grief that brought them together be what kills their relationship? Or will Kaoru's sassy, affectionate friend, Akira Hasumi, be the one that comes between them?
THE LOWDOWN: As far as yaoi manga go, Shy Intentions is rather moody. Scenes of passion and sex seem like book ends to scenes of grief and disappointment. It's only in the last 30 pages that levity and relationship intrigue lighten up the mood. Still, throughout Shy Intentions, creator Syouko Takaku manages to maintain an overall mood of romance, even through the sadder moments. The overall composition of the art is pretty good; clothing, buildings, and backgrounds; an excellent sense of space gives the story the feel of a movie.
POSSIBLE AUDIENCE: What Shy Intentions resembles is one those TV movie dramas that have characters find love after tragedy, so if you like that…
B
Last Updated: January 24, 2022 - 11:00