Samurai 7: Volume 1
By Leroy Douresseaux
March 25, 2009 - 13:27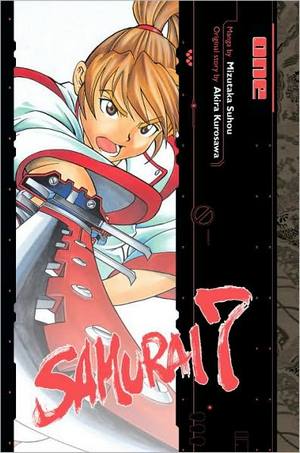 Samuari 7 Vol. 1 cover image is courtesy of barnesandnoble.com
Rating "OT" for "Ages 16+"
Samurai 7 is a manga series from creator Mizutaka Suhou and is inspired by the 2004 anime series, Samurai 7, produced by Gonzo. That 26-episode anime series was a remake and re-imagining of Akira Kurosawa's classic 1954 film, Seven Samurai, with futurist and science fiction elements.
Samurai 7, Vol. 1 is set in the distant future when humanity has colonized the planets of the solar system. A "system-wide" war has ravaged a considerable portion of the earth, and armed robots were at the forefront of that destruction. Facing these robots were samurai armed with swords known as "Taisenshatou," which would allow flesh and blood men to fight machines. What followed the war was a time of brutality and public corruption.
The rice village of Kanna escaped major war damage, but now cyborg bandits plague the village, killing its citizens and stealing its crops. Kirara Mikumari, a young woman from the village, her younger sister, Komachi, and a village farmer, Rikichi, travel to the city in search of samurai that they can hire to defend the village. Having no money, all the village can offer in payment is rice. The trio comes upon a young man named Katsushiro Okamoto, a samurai wannabe who happens to posses at Taisenshatou. Katsushiro seems adequate, but he inadvertently leads the trio to Kambei Shimada, a ronin who helps them find the other men they need.
THE LOWDOWN: Let's not spend this review comparing Samurai 7 to Kurosawa's Seven Samurai, an amazing, awe-inspiring film from an amazing director. Samurai 7 the manga is actually a pretty good read. I had a bit of a hard time following the story because the art by Mizutaka Suhou and (I'm assuming) his staff of assistants is so detailed and has such an intricate line that I was often driven to distraction because I kept admiring the art. Robots, buildings, the wreckage of buildings, backgrounds, costumes, etc. are delineated in mind numbing detail that reminds me of the art of Geof Darrow. The figure drawing is also quite good and is similar to the style of Takashi Hashiguchi on Yakitate!! Japan.
This kind of story, which pits a few brave warriors against a larger group of adversaries, while protecting the innocent/helpless townsfolk, is timeworn but irresistible when done well, as it is here. The best recommendation that I can give Samurai 7 is that I want to read more.
POSSIBLE AUDIENCE: Fans of manga adapted from anime, especially sci-fi series, will like Samurai 7.
B+
Last Updated: June 23, 2021 - 00:45