Rosario+Vampire: Volume 9
By Leroy Douresseaux
October 3, 2009 - 19:04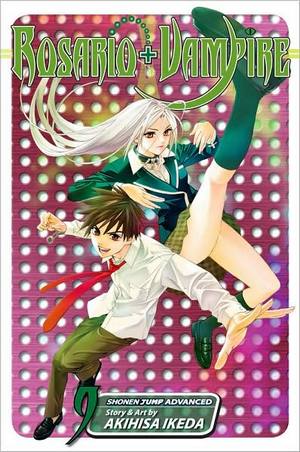 Rosario+Vampire Volume 9 cover image is courtesy of barnesandnoble.com.
Rated "T+" for "Older Teen"
Tsukune Aono had failed to gain admission into any high school. The 15-year-old average student ended up at Yokai Academy, where every single student is a monster – a fact Tsukune learns only after he arrives. He makes a friend in Moka Akashiya, a teen vampire who loves to sink her teeth into Tsukune's neck every now and then. Now, Tsukune's troubles with grades pale in comparison to being caught in the middle of student turf wars between vampires and werewolves.
As Rosario+Vampire, Vol. 9 (entitled Monster Mamas) opens, Tsukune continues his battle with Hokuto Kaneshiro, President of the Student Council, who has launched a plot to reveal Yokai Academy's existence to the human world, which will be a disaster for both humans and monsters. Next, the school festival begins, and what should be a happy time for Tsukune and Moka is nothing but bad news. First, teen succubus Kurumu Kurono and ice elemental Mizore Shirayuki have told their mothers that Tsukune is their betrothed. Then, Kyoko, Tsukune's childhood best pal, shows up for the festival, and she's determined to get down to the bottom of Yokai Academy's secrets.
THE LOWDOWN: As the creator of a shonen manga (comics for teen boys), manga-ka Akihisa Ikeda must realize that in order to keep his audience interested and coming back for more he must be dexterous in his storytelling. Rosario+Vampire shifts genre, mood, and tone from one storyline to the next. The stories in this volume alone are a buffet of genre crossing: conspiracy thriller, action horror, fantasy drama, romantic comedy, and horror comedy. The tone of any one story can also be light comic even when the setting suggests a darker mood. Combine that with a diverse cast of weird characters and one lovable loser and Rosario+Vampire is never dull.
POSSIBLE AUDIENCE: Readers who want comedy, drama, romance and T&A will like Rosario+Vampire.
A-
Last Updated: January 24, 2022 - 11:00