Yumekui Kenbun Nightmare Inspector: Volume 6
By Leroy Douresseaux
February 9, 2009 - 14:45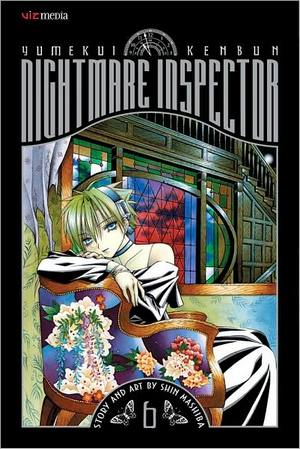 Nightmare Inspector 6 cover image is courtesy of barnesandnoble.com.
Rated "T" for "Teen"
People don't come to the Silver Star Tea House for the tea. They come looking for Hiruko, who is a "Baku," or dream eater. Like a special private investigator, Hiruko will discover the mysteries behind his customers' worst nightmares. The price – he gets to eat those nightmares.
In Yumekui Kenbun: Nightmare Inspector, Vol. 6, a rival Baku and old acquaintance of Hiruko's named Tsukishiro arrives with a nightmare full of trouble. He wants Hiruko to relinquish his role as Baku and return it to Hiruko's predecessor, Azusa. Tsukishiro traps Hiruko's assistant Mizuki Asahina in a nightmare in order to coerce Hiruko into cooperating. Hiruko, with the assistance of Hifumi Misumi, his Silver Star housemate, launches a rescue mission into Mizuki's dream world.
THE LOWDOWN: The phrase "genius at what he (or she) does" certainly applies to Shin Mashiba, as seen in her dark fantasy shojo manga, Yumekui Kenbun. Like Neil Gaiman did in his seminal comic book series, The Sandman, Mashiba uses a singular figure, in this case the Baku named Hiruko, to explore the human condition through a raft of metaphors and symbolism. Mashiba surprises because she uses a mix of tones and moods to tell these stories. Some have shocking endings that seem right out of EC horror comics. Others delve into the dark side of family relationships; yet others are silly and quite comical. She has taken her simple concept and expanded it beyond the realm of mere dream exploration and has instead traveled into our hopes and fears.
That said, this volume of Yumekui Kenbun falls off a bit with the arrival of Tsukishiro because the narrative becomes too insular with a focus on the series' own internal mythology. However, Mashiba's beautiful art – a gothic style which emphasizes elegant line work and flowing costumes – makes even a minor misstep look so pretty.
POSSIBLE AUDIENCE: Fans of imaginative fantasy that travels to mysterious realms will enjoy Yumekui Kenbun.
A-
Last Updated: June 23, 2021 - 00:45