Comics / Manga / Yaoi Manga
Necratoholic (Yaoi) - A Screwy Vampire Romance
By Leroy Douresseaux
March 14, 2009 - 09:30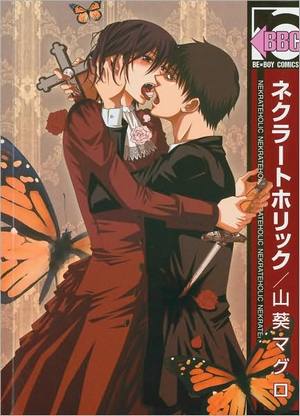 The cover illustration featured on the above image of the Japanese edition of Necratoholic is also used for June Manga's edition with new cover copy.
Rated "M" for "Mature Audiences 18+"
Sakuya was a noble vampire and a master of seduction, but one chaotic day, that changed. That was the day Hiromasa Atsumi, the vampire hunter, ravaged him. Atsumi is a dhampir – half vampire and half human; when a vampire drinks a dhampir's blood, he loses his taste for human blood. On the day Atsumi filled Sakuya's mouth (and other parts) with his blood, Sakuya became a pathetic vampire and was no longer a threat worthy of the Vampire Hunters Association's notice.
Now, a year later, Atsumi is back, but he's changed, too. The exchange of fluids caused him to lose his dhampir abilities, but both Sakuya and Atsumi can be described using the word "necrato" – a creature that lusts for blood. Now, they lust for each other's blood, and Sakuya doesn't like it!
THE LOWDOWN: In spite of its subject matter and concept, Necratoholic is a raunchy, sex comedy with a minor conspiracy subplot that hardly matters to the reader's enjoyment. Creator Maguro Wasabi has presented a group of good-looking young men who dress well and move around in a world of good architecture. Ultimately, that is Necratoholic's big problem; it's all pretty visuals and very little substance. Maguro draws pretty people, and her composition is impeccable (the top panel on page 93 attests to that). However, while the ideas and concepts are interesting, the actual story is flimsy and awkwardly developed. Necratoholic feels like a short story stretch past the breaking point, although there are enough ideas here to make an actual graphic novel.
POSSIBLE AUDIENCE: Readers looking for vampire-themed yaoi manga may want to give Necratoholic a try if for no other reason than Maguro Wasabi's beautiful art.
B-
www.digitalmanga.com
www.akadot.com
Shop for Yaoi Delights.
Last Updated: June 23, 2021 - 00:45