Naruto: Volume 43
By Leroy Douresseaux
July 7, 2009 - 13:31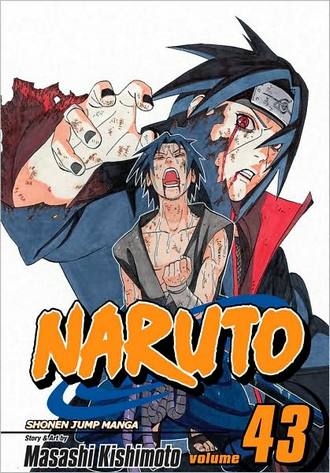 Naruto Volume 43 cover image is courtesy of barnesandnoble.com.
Rated "T" for "Teen"
Uzumaki Naruto is now counted among the ranks of the Konoha shinobi, although he was once the bane of the Konohagakure Ninja Academy. These illustrious shinobi (ninja) protect their village from forces trying to destroy it from within and without. Still, his current position aside, Naruto wants to be the world's greatest ninja and one day – his village's Hokage (village champion).
In Naruto, Vol. 43 (entitled The Man with the Truth), the battle between Naruto's former teammate, Uchiha Sasuke, and his brother, Uchiha Itachi, comes to an explosive and grim end. There is, of course, no rest for the weary. Another clansman, Uchiha Madara, forces Sasuke to hear the dark secrets of recent ninja history, secrets that include a tale of Sasuke's family's damaged past. It will change his future, but is it the truth?
THE LOWDOWN: Offering the epic scope of a James Clavell novel, the 43rd tankoubon collection/volume of Naruto does live up to the hype; it changes the world of Naruto forever… or, if you don't like hype, at least for a long time. However, the intrigue and suspense, with all the machinations and plotting and the duels and battles with all their sorcery and pyrotechnics, are still there to amaze readers. The biggest treat, though, may be getting nearly 250 pages of comics for the usual price of $7.99. If you're a regular Naruto reader, you get your regular Konoha dose plus more. If you're not a Naruto reader, then, you'd probably like being one. It's the best superhero comic book on the market.
POSSIBLE AUDIENCE: Readers looking for the ultimate fun read.
A+
Last Updated: June 23, 2021 - 00:45