Naruto: Volume 3
By Leroy Douresseaux
September 3, 2007 - 16:32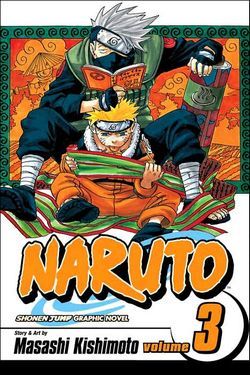 Thanks to barnesandnoble.com for the image.
When he was a baby, his body became the prison for a destructive nine-tailed fox spirit. Now, Uzumaki Naruto is a ninja-in-training, and the hero of the immensely popular shonen manga (boys' comics), Naruto.
In Naruto, Vol. 3, Naruto and his classmates/teammates, Uchina Sasuke and Haruno Sakura, under the direction of their coach/teacher, Hatake Kakashi, are on a mission to protect a bridge builder in the Land of Waves. The millionaire crime lord, Gatô, is determined to stop the builder Tazuna from constructing a bridge that will bring prosperity to and usurp his power in the Land of Waves. To that end, Gatô has hired the ninja assassin Zabuza to dispatch Tazuna. However, Kakashi and his students stopped Zabuza's first attack, and Kakashi gravely wounded the ninja assassin.
Kakashi moves his pupils into Tazuna's home, and promptly puts Naruto, Sasuke, and Sakura through a tough training regimen. Meanwhile, Zabuza heals and prepares to attack again – this time with the help of his preternaturally talented apprentice Haku, who may be more than a match for Kakashi's best fighters, Naruto and Sasuke.
THE LOWDOWN: Discovering the secret of Naruto's success may not be as difficult as trying to learn all the reasons Harry Potter had children and adults standing in long lines outside bookstores, but it's still hard to fathom why this particular manga series seems to tower above all others in North America. One reason for all the Naruto love may be that manga-ka (creator) Masashi Kishimoto has fashioned a boys' comic that weaves supernatural martial arts and combat with teen melodrama about young boys and girls determined to make their mark on the world as the best in their professions. I imagine young male readers love the action and identify with the need to prove their worth in a world in which they feel undervalued.
POSSIBLE AUDIENCE: Naruto is part of VIZ Media's "Shonen Jump" line of manga. Shonen Jump is an anthology magazine of action-oriented manga, and Naruto lives up to the top billing it receives in the magazine. The mind-bending fight scenes so expertly drawn by Kishimoto are worth the price of admission.
A-
Get your Naruto on at the Amazon aStore.
Last Updated: June 23, 2021 - 00:45