Naoki Urasawa's Monster: Volume 10
By Leroy Douresseaux
August 14, 2007 - 20:48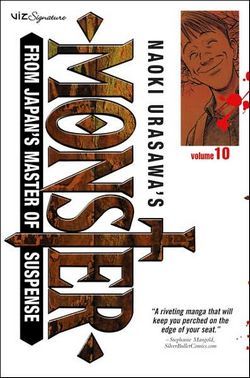 Thanks to barnesandnoble.com for images.
In
Naoki Urasawa's Monster

, Vol. 10
,
Dr. Kenzo Tenma
, who moved from Japan to Düsseldorf, Germany to find success as a brain surgeon, steps aside as another character comes to the forefront. This other character, an investigative journalist, continues the investigation into the origins of
Johan Liebert
. Johan is a cold, calculating killer whose life Dr. Tenma saved using a miraculous brain surgery when Johan was a child.
Grimmer is an investigative reporter from the former East Germany (where he was a spy using the guise of an international investigative reporter). Grimmer arrives in Prague, Czech Republic looking for Michael Ivanovich Pedrov who was once Reinhart Biermann, the former director of the infamous 511 Kinderhelm orphanage in East Berlin. 511 Kinderhelm specialized in "scientific personality programming," or as it's better known, brainwashing.
Grimmer wants Pedrov to turn over the documents from the orphanage that he still has in his possession, but Grimmer isn't the only one who wants the documents. Elements of the former Czech Secret Police are gunning for 511 Kinderhelm's dark secrets, and young Detective Jon Suk is about to find himself between Grimmer's quest and murderous cops.
THE LOWDOWN: Perhaps, this intricately written mystery/thriller ultimately finds its strength in rich characters. Mood and atmosphere as much as the plot and narrative themselves are established by strong characters who almost possess the readers. There is something both haunting and mesmerizing about the all-too-nice, genial Grimmer. What is this hypnotist up to here? That's what manga-ka Naoki Urasawa offers – characters that make you care more about them than you thought would at first sight. These vivid characters keep me on the edge of my seat.
POSSIBLE AUDIENCE: Readers that are always looking for the best the medium has to offer – especially in international comics – will find it in Naoki Urasawa's Monster.
A
Buy a monster at the Amazon aStore.
Last Updated: June 23, 2021 - 00:45