Comics / Manga / Yaoi Manga
Love/Knot (Yaoi)
By Leroy Douresseaux
March 24, 2009 - 08:26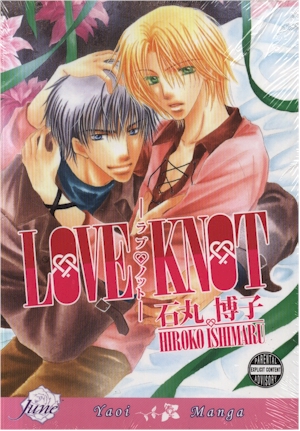 Love/Knot cover is courtesy of Anime Castle Books.
Rated "M" for "Mature Audiences 18+"
In Love/Knot, a yaoi manga from creator Hiroko Ishimaru, a detective takes someone and his troubles into his home, but ultimately discovers true love.
Keigo Someha is a detective who also works as an assassin, so he's basically a loner. One evening he returns home to find a young man, who looks like a high school age boy, sleeping near his door. Keigo takes the young man into his home; after a while, he reluctantly tells Keigo that his name is Emiya Nozaki. Emiya is unfamiliar with household chores and ordinary everyday stuff, but he has a sixth sense when it comes to finding missing people, which benefits Keigo on his assignments.
Keigo later learns that the human subject of a top secret government project has escaped from a laboratory, and he wonders if Emiya is that subject. Government officials, led by the mysterious Mr. Hamuro, are searching for Emiya. Keigo isn't sure that he would let Emiya go, and Emiya is starting to trust Keigo enough not to ever want to leave him.
THE LOWDOWN: Even with its science fiction element (Emiya's "presentient abilities, remote viewing, and other extraordinary mental powers"), Love/Knot is strongly romantic and comes across as a traditional Western romance novel. Keigo is the strong, stern, silent type who gallantly rescues and defends Emiya, the damsel in distress. The tall, dark-haired roughneck, Keigo, would be a perfect match for the frail, doe-eyed, blonde looker, Emiya, if the characters were the stars of a story from a romance novel publisher like Silhouette Books. Creator Hiroko Ishimaru's use of emotive faces and those huge, beautifully expressive eyes convey to the readers a sense of how deeply connected Keigo and Emiya become over the course of this story.
POSSIBLE AUDIENCE: Yaoi readers looking for heartfelt romance will find it in abundance in Love/Knot.
A-
www.digitalmanga.com
www.akadot.com
Shop for Yaoi Delights.
Last Updated: June 23, 2021 - 00:45