KimiKiss: Volume 1
By Leroy Douresseaux
July 11, 2009 - 15:00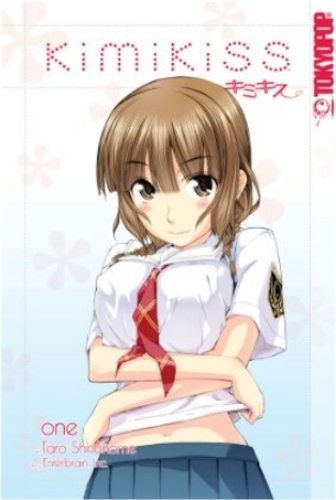 KimiKiss Volume 1 cover image is courtesy of Anime Castle Books.
Romance/Comedy; Rated "OT" for "Teen-Age 16+"
Kouichi Aihara is starting the second semester of his first year in high school, but his mind isn't on his studies. His mind is on the fact that he's never kissed a girl. Then, along comes Mao Mizusawa, his best friend since childhood, and she certainly has grown up.
In Kimi Kiss, Vol. 1, Kouichi notices that his childhood pal Mao is filling out her clothes with an ample bust, curvy hips, and a nice round… butt – a total babe! Seeing how shy he is, Mao decides to teach Kouichi how to attract girls' attentions. She calls her teachings, "Mao Lessons" in love, but does Mao have an ulterior motive in helping Kouichi become confident with the opposite sex?
THE LOWDOWN: Based on the Playstation 2 dating sim game created by Enterbrain, Inc., Kimi Kiss (or KimiKiss) is a fluffy romantic comedy that mixes puppy love with fanservice. The puppy love stuff is sweet and sentimental and is also light-hearted fun. Having a teen girl with a brick house body in this kind of young love scenario is unsettling.
Taro Shinonome draws soft, puffy looking characters with big eyes and huge faces that allow her to easily depict the emotions of young teens smitten by first love. Her drawing style is also pitch perfect for depicting Mao's curvaceous figure. Kimi Kiss is not good for you, but it's hard to resist this gooey bonbon.
POSSIBLE AUDIENCE: Somewhere between the tender yearnings of teens in love and the mounting pressure of young lust, Kimi Kiss will capture the interest of female readers and some males.
B
Last Updated: June 23, 2021 - 00:45