IDW Doomed In October!
By The Editor
July 26, 2005 - 14:31
This October, you're all Doomed. At least that's what the macabre, man-hating hostess of IDW Publishing's revival of the old b&w horror magazine tells you.
Illustrated horror fiction was never more popular than in its heydey of the early 1950s, but 1970s Warren Publication's like Eerie and Creepy gave new generations of horror fans some chilling EC-inspired tales, too. And since then… there's been a considerable dearth in illustrated horror magazines. However, that all changes in October with the launch of IDW's new bi-monthly magazine, Doomed.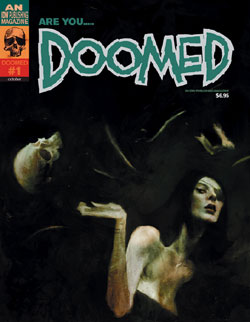 Doomed, which will be printed on newsprint like the horror mags of yesteryear, will feature adaptations of short horror fiction from some of the genre's true masters, such as Richard Matheson, Robert Bloch, David J. Schow and F. Paul Wilson. Every issue will feature four 16-page adaptations, illustrated by some of the best comic artists of the past and the present. Every issue will be presided over and narrated by the magazine's eyepatch-wearing Ms. Doom. In this debut issue, she presents Ash Wood's takes on Richard Matheson's "Blood Son," as adapted by IDW's Editor-in-Chief, Chris Ryall. F. Paul Wilson is joined by Ted McKeever on his own "Cuts," Ryall and Eduardo Barretto tackle David J. Schow's "Blood Rape of the Lust Ghouls," and Ryall and Kristian Donaldson attends to Robert Bloch's "Final Performance." Also included in each issue will be interviews and editorial features that profile the legacy of the writers featured within, starting here with an interview with David J. Schow. This debut issue features covers from both Ashley Wood and Jeremy Geddes.
Doomed #1, a black-and-white, 8-1/2 x 11, 72-page magazine, is exhumed in October 2005
Last Updated: June 23, 2021 - 00:29