Heavenshield: Volume 1
By Leroy Douresseaux
May 22, 2008 - 13:11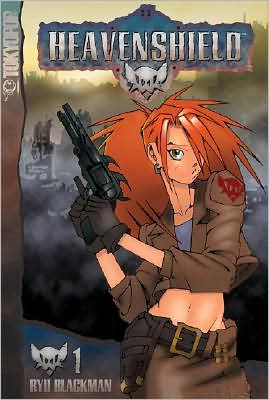 Thanks to barnesandnoble.com for the image.
Rated "OT" for "Older Teen-Age 16+"
It's okay to have complaints about Heavenshield, the new original English language manga (or OEL) from TOKYOPOP. I do. My main complaint is that subplots and characters gather like frenzied ants over a dead roach in a pool of syrup. On the other hand, I'm blown away by the vivid imagination and potent style creator Ryu Blackman uses to visualize his creation.
Heavenshield takes place in a future in which humans and human-like reptiles live together. A new religion called Sacrosanct is apparently the reason that peace holds in this new world order of different races. After a psychotic general (apparently named "Oz") escapes prison, he plots a military coup that begins to claim the lives of politicians.
A mercenary (called a "saucer girl") named Sepulveda Ramos takes an under-the-table military assignment to lead her dysfunctional group of mercenaries to Mars to take Senator Oliver Keita into protective custody. The mission turns dangerous when a heavily armed group (the attackers even have a giant mech suit) attack Ramos and her people. Then, it gets worse.
[This manga includes a six-page preview of the OEL title, Poison Candy from David Hines and Hans Steinbach.]
THE LOWDOWN: The publisher essentially brands Heavenshield as "Global Manga," which is to say non-Japanese comics inspired in one way or another by actual Japanese comics (manga), with these manga-influenced comics being published by TOKYOPOP. In the case of Heavenshield, however, I'd just as soon call it "Global 2000 AD" or "Nuevo Heavy Metal." I say this because Heavenshield bears a passing resemblance to or is inspired by the last 40 years of science fiction comics, manga, and anime. And, no, Blackman's work isn't derivative. He's simply taken a lot of stuff and assimilated it into his work. Thus, Heavenshield is as much sci-fi comics as it is Global Manga.
If you take a look at the cover, you'd never believe that Heavenshield is worth anything. That illustration and the design work are just bad. Also, it takes about 30 or so pages to get used to Blackman's highly stylized art (sort of an amalgamation of Kyle Baker, Cully Hamner, Joe Madureira, and Humberto Ramos, among others). After a while Blackman's crazy and playful sense of design starts to make sense. Buildings and architecture have an art deco feel to them. Blackman composes the characters in ways that make them look rubbery and elastic – ready for any kind of action that comes their way.
It all makes for an exciting visual treat in a way similar to Brandon Graham's 2007 OEL manga, King City [http://www.comicbookbin.com/kingcity001.html].
POSSIBLE AUDIENCE: Fans of kooky and visually audacious sci-fi comics.
B+
Last Updated: June 23, 2021 - 00:45