Comics / Comic Reviews / More Comics
Fox Bunny Funny Unveils Andy Hartzell as a Young Master
By Leroy Douresseaux
March 25, 2007 - 16:00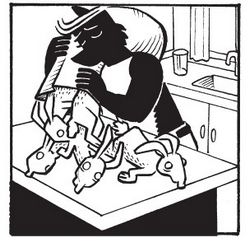 A detail from the book.
"A visionary, vision is scary, could start a revolution…" "Without Me" - Eminem
While reading a review copy of the graphic novel, Fox Funny Bunny by Andy Hartzell, I kept thinking that this was the kind of book that could get the author throne in jail during times of high political turmoil and tumultuous change. An allegorical tale about the strong eating the weak, Fox Funny Bunny could also be viewed as a metaphor for our hungry, greedy times, as well as for centuries of rape, pillage, and enslavement in the name of national treasure.
In the anthropomorphic world of Fox Funny Bunny, there are only the fox and the bunny. Foxes oppress bunnies, and when they're not oppressing them, the foxes are devouring bunnies by the bunch. Bunnies simply live in fear, and cower when they're hunted, unable to fight. The question of whether the bunnies are unable or unwilling to fight lingers over the book, particularly in the last chapter.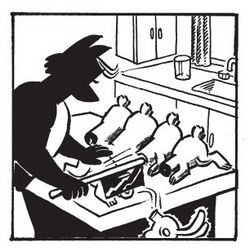 One of the many visually striking images.
Into this setup, comes a young fox who only wants to be a bunny. When his mother discovers the young fox prancing about his room in a bunny suit (kind of like catching him masturbating), it's off to the fox version of scout camp where the bunny wannabe must learn to kill bunnies or be forever ostracized from proper, bloody fox society.
Hartzell spins the narrative without dialogue or captions - pantomime comics. Two prominent and recent examples of pantomime are Norwegian cartoonist Jason (who lives in Paris) and Andy Runton, whose Owly graphic novel series has earned widespread acclaim even outside of comic book circles. Hartzell's work spins closer to Jason's eerie and melancholy orbit than to the poignant safe-for-children Runton.
Like Jason, Hartzell uses funny animals or anthropomorphism to create dramas that both reflect and comment on the human condition - the universal human condition. Depending upon who reads this, he or she will immediately identify his or her own social experiences with Fox Funny Bunny's scenario. Is this a tale of a person with a secret desire that puts him at odds with his family, community, and/or society? Is there a background allegorical tale about one group exploiting the other for economic gain - literally devouring that group in order to sustain itself? Is this ultimately about a person's intense desire to be part of another group to the point that he or she wants to transform physically? It's as if Chuck Jones, Charles Addams, Karl Marx, and Spike Lee made a comic.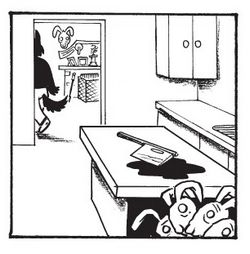 A haunting panel from Fox Bunny Funny
Hartzell realizes a lot in his graphic novel, and anyone lucky enough to read Fox Funny Bunny will find a work of fiction that challenges the reader to think not only about himself, but also about his relationship to his own group and others. A gay/lesbian coming of age story, the Rwandan genocide, Sudan, American slavery, the Holocaust, the consumer economy, the food chain, gender transformation, identity politics - the possibilities through which to view this story are endless, and it's likely the author never intended his audience to read so much into his work. If so, then, we'll call it a happy accident.
Fox Funny Bunny is featured in the April Diamond Previews for a June 2007 publication date. Fox Funny Bunny is also available for pre-order from the publisher's website, topshelfcomix.com. Thanks to Robert Venditti for the hook up.
Last Updated: May 19, 2020 - 12:25