Fantagraphics Sells Out
By The Editor
August 6, 2007 - 17:24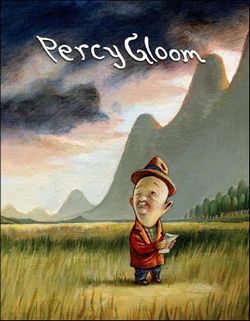 Sold out!
FANTAGRAPHICS BOOKS ANNOUNCES REPRINT PLANS STRONG SUMMER SALES SEND UNPRECEDENTED NUMBER OF TITLES BACK TO PRESS
Fantagraphics Books announced at this month's Comic-Con international that it was going back to press on Paul Karasik's retrospective of Golden Age cartoonist Fletcher Hanks, the wildly popular I Shall Destroy All the Civilized Planets! The collection was an instant sellout in bookstores nationwide as well as at this year's MoCCA and Comicon events. The book marks the ninth book Fantagraphics has gone back to press on this summer, which co-owner Kim Thompson says is "almost certainly a record for the company."
I Shall Destroy All the Civilized Planets! is the third new release this summer that Fantagraphics has had to go back to press on in the first few weeks of release, following June's Percy Gloom by Cathy Malkasian and R. Crumb's Kafka.
"All three caught us off guard in different ways," says Fanta Spokesperson Eric Reynolds. "Percy Gloom is a fantastic book, but the author is relatively unknown since this is her first book. Sales tracked way higher than you would normally expected for a first-book. The Fletcher Hanks book just took on a life of its own on the internet. Fans have really embraced Hanks' twisted worldview in a way that we didn't anticipate when we announced the book -- it was our unequivocal hit at Comicon and we sold our last remaining stock of the first edition. Kafka was a new edition of an out of print classic, so we anticipated modest sales out of the gate — we should know better than to underestimate the power of R. Crumb."
In addition to these new books, Fantagraphics also has gone back to press on several other titles in the past few weeks: BEASTS! (3rd Ed.) by Jacob Covey and friends, Buddy Does Jersey (2nd Ed.) and Buddy Does Seattle (3rd Ed.) by Peter Bagge, Like a Velvet Glove Cast in Iron (7th Ed.) by Daniel Clowes, Usagi Yojimbo, Book 3 (7th Ed.) by Stan Sakai, and Ganges #1 (2nd Ed.) by Kevin Huizenga. The Ganges reprinting marks the first book in Fantagraphics' international Ignatz line to go back to press.
Fantagraphics Books is distributed by W.W. Norton and Diamond Comics Distributors in the United States, Raincoast Books in Canada, and Turnaround Services in the UK.
Last Updated: June 23, 2021 - 00:29