Eclipso - The Darkness Within
By Hervé St-Louis
April 6, 2004 - 11:04
The Eclipso comics offered at the Comic Book Bin are from his regular 1990s series and the first special written by Keith Giffen and Robert Loren Fleming and at first drawn by Bart Sears. The latter issues feature the famous massacre scenes where the villain killed several DC Comics characters.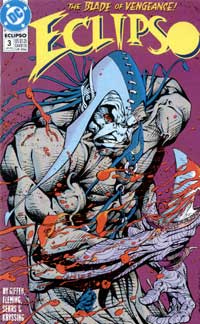 We best know Eclipso as the villain who killed a dozen characters in his own series during the mid-1990s. Earlier, Eclipso had been a minor villain introduced in his own strips and then regular series. His story was that of Bruce Gordon, the doctor who would turn into a villain with a magic black diamond during an eclipse. These gimmicks limited the character in his early career.
The Darkness Within mini-series changed that. Eclipso, it turns out was really a demon who had possessed Gordon for several years. He had several more diamonds that would control anyone who had the faintest selfish or negative emotion, while the holding the gems. DC revamped Bruce Gordon as a freedom fighter trying to oppose Eclipso's plans of domination.
Eclipso's upgrade as a major villain was effective. In the crossover that reintroduced him, he took over many of DC Comics' heroes and villains. Eclipso also murdered people randomly. Regular villains were never mass murderers. There was finally something to fear and only mystical characters like the Phantom Stranger could seriously oppose Eclipso.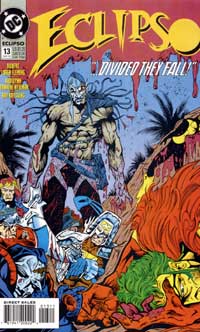 In his regular series, Eclipso took over the small fictional South American country of Parador - read Paraguay! The series carefully showed each step the villain took to control the country and gather strength. Of course, Gordon and rat pack of DC characters such as Amanda Waller and the Creeper began to plan a counter attack to stop the villain.
One such plan was to recruit a small team of specialists, called the Shadow Fighters to go into Parador and rescue some prisoners. This team included Major Victory, the Golden Age hero Commander Steel, Peacemaker, Manhunter, the Creeper and former Infinity Inc. members, Wildcat, Doctor Midnight. Although led by Bruce Gordon, Eclipso killed all characters.
This story continues to annoy several comic book fans even if the characters whom Eclipso killed were all minor ones not published in any regular comic books at the time. The effects of the murders continue to influence several series such as the Justice Society, a decade after its publication. Of note, the gruesome death of two women has been controversial.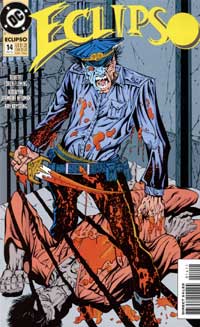 Of course, the more experienced and major DC comics' characters quickly dealt with Eclipso later. It has also cemented Eclipso's place in the top villain's spot for his universe. No one treats him as a joke anymore, Whether his series needed to go to such graphic violence to establish him as a major character is debatable.
Last Updated: March 10, 2022 - 22:00