Case Closed: Volume 31
By Leroy Douresseaux
September 16, 2009 - 11:02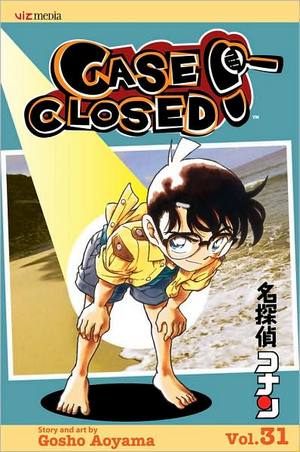 Case Closed Volume 31 cover image is courtesy of barnesandnoble.com.
Rated "T+" for "Older Teen"
Ace high school detective, Jimmy Kudo is hot on the trail of two mysterious men in black. They attack Jimmy from behind and administer into his body a strange substance that physically transforms him into a first grader. While searching for a cure, Jimmy takes on the identity of elementary school student, Conan Edogawa. Acting alone and sometimes with his friends, the Junior Detective League, Jimmy/Conan continues to solve criminal cases and mysteries.
In Case Closed, Vol. 31, one murder case is solved at the beginning of the book and another begins at the end. In the middle, Conan takes on two other murder cases, but his rival, Harley Hartwell (the "other" greatest detective in Japan), solves a third. First, Conan, Rachel Moore, and her father, Richard Moore (the sleeping detective), are visiting the Aoiya Inn in the heart of Kashiragami Forest – the supposedly cursed forest infamous as a popular destination for would-be suicides. What they find is a Richard Moore impersonator, a fresh suicide, and a murder case several years old.
Next, Conan and the Junior Detective League are vacationing at the beach, but when the body of a drowned man washes ashore, everything takes a backseat to a possible murder investigation. Then, Harley's high school kendo team is participating in a huge kendo tournament. When a participant is found murdered, Harley becomes more interested in a duel of wits with a murder suspect than he is in a duel with a kendo opponent. Also, time is running short, as Harley races to solve the murder before his rival, Conan, arrives.
It's unknown what percentage of fans of mystery fiction is aware of manga or comic books. Of the readers that are aware of comics, how many of them know about Case Closed, a comic book that offers classical whodunit mystery stories? Their mystery reading lives would be better for knowing Detective Conan because Case Closed intrigues, perplexes, confounds, delights, and ultimately entertains just like detective novels and stories (to say nothing of detective movies).
Sometimes, the strange twists and reveals of Case Closed's plots tear at the credibility of these stories. Creator Gosho Aoyama, however, executes these stories with murderous precision, so almost every time, the result is a cool read.
A-
Last Updated: January 24, 2022 - 11:00