Case Closed: Volume 30
By Leroy Douresseaux
July 28, 2009 - 13:45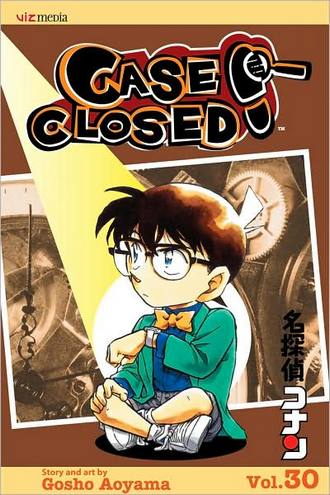 Case Closed Volume 30 cover image is courtesy of barnesandnoble.com.
Rated "T+" for "Older Teen"
After accosting him, two mysterious men in black administer to ace high school detective, Jimmy Kudo, a strange substance that physically transforms him into a first grader. While searching for a cure, Jimmy takes on the identity of elementary school student, Conan Edogawa. Acting alone and sometimes with his friends, the Junior Detective League, Jimmy/Conan keeps on solving criminal cases and mysteries.
In Case Closed, Vol. 30, six of Japan's greatest detectives have been invited to the secluded hillside Sunset Manor to play a game that involves finding lost treasure and murder most foul! One of the invited detectives is Richard Moore, the famous "Sleeping Detective." Accompanying him is his daughter, Rachel Moore, and the one sleuth who can actually win the game, the uninvited Conan. Next, it's the Junior Detective League to the rescue when they discover that someone is trying to kill club member, George Kaminski.
I'll write what I wrote for the 28th volume of Case Closed. The 30th volume of Case Closed offers the same fun as earlier volumes. Readers still get highly entertaining whodunits in the vein of the classical mystery story. The strange twists of these murder plots frequently stretch these stories' credibility. The clues are hidden in the stories and are often hard to find, but creator Gosho Aoyama's clever storytelling makes you want to find them. Vol. 30's major story, the mystery at Sunset Manor, which is entitled "The Kaido Game," is one of those old school, gathering of great detective stories that are actually really cool reads.
B+
Last Updated: June 23, 2021 - 00:45