Comics / Manga / Yaoi Manga
A Foreign Love Affair (Yaoi)
By Leroy Douresseaux
May 20, 2008 - 07:31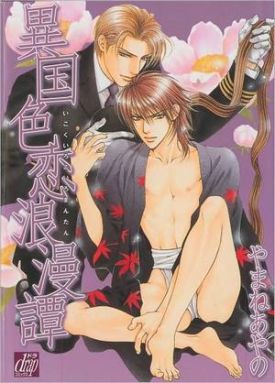 801 Media keeps the cover image for their edition, but, of course, changes lettering and blurbs.
"18+ Mature Content"
Ranmaru Ohmi, a 23-year-old yakuza underboss, should be enjoying his honeymoon. After all, he's aboard the Costa Altista, cruising the beautiful islands of Sicily with his gorgeous new bride, Kaoru. However, the marriage was one of convenience, meant to unite two rival yakuza clans, and neither Ranmaru nor Kaoru are really happy to be married or on a cruise… at least not with each other.
After a newlywed argument, the hot-tempered Ranmaru wanders the ship, attracting the attention of his fellow passengers by wearing a kimono, including the attention of Alberto Valentiano, the captain of the Costa Altista. Before Ranmaru can catch his breath, Alberto, or "Al," has taken charge and the two have a night of hot and sweaty sex… with Al on top. When Ranmaru and Kaoru depart the ship the next morning, both he and Al wonder: was their encounter a single night of hot sex or was it just the beginning of a beautiful relationship… with hot sex?
In an extra story, "The Love Guide," assistant professor Hirotaka Takaoka goes to a marriage matchmaker (at the behest of his mother) to find a wife. However, Hirotaka soon finds himself falling in love with Tohru Serizawa, the young man who is supposed to be helping Hirotaka find a bride.
THE LOWDOWN: Rather than offer simple romance and intermittent scenes of lovemaking, A Foreign Love Affair is a bawdy comedy (think Wedding Crashers) with intermittent scenes of torrid sex. Yaoi manga, a subset of BL or boys' love, features explicit sex between two men, and A Foreign Love Affair is really… really… yaoi. In fact, manga-ka Ayano Yamane is best when drawing scenes of seduction and physical love, but Ayano seems to lose interest when composing ordinary drama or comedic scenes, which doesn't keep this manga from being entertaining.
POSSIBLE AUDIENCE: For readers who like to see lovers unable to keep their hands off one another.
B+
Last Updated: June 23, 2021 - 00:45